Regatta Weekend 2023 Report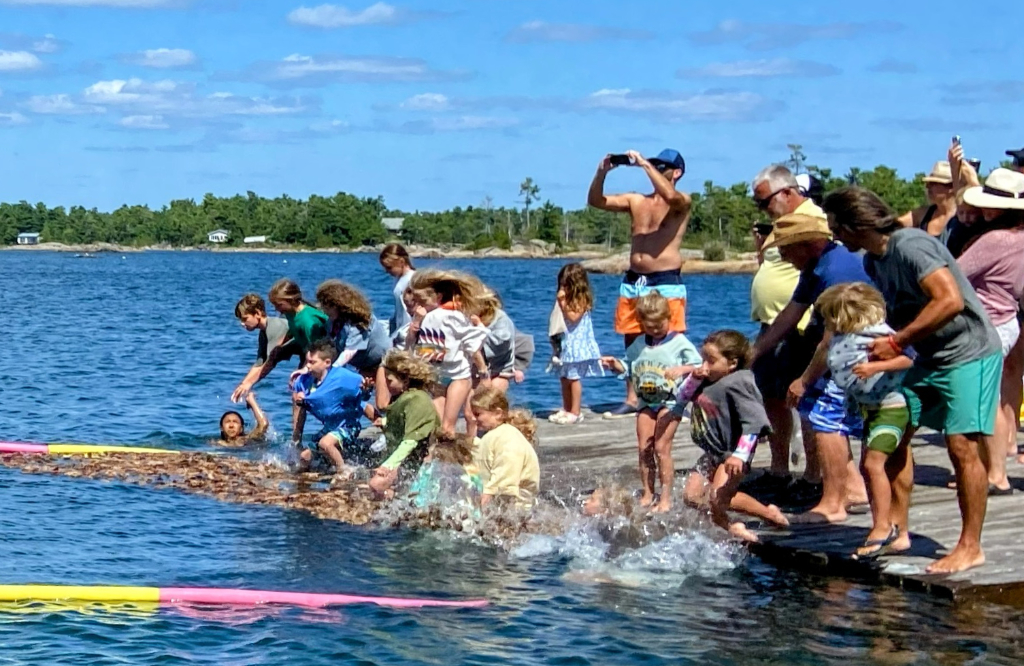 Spectacular weather and great turnouts for Regatta Weekend
by Susan Buckley | at large
The day was pristine Georgian Bay: a changeable wind, sunny skies, and eagerness on everyone's faces.
Chocktaw Island almost glowed. The registration tables and the trophies all lined up looked as if they were organized with precision and joy.Everyone seemed to be so delighted to be coming together again to test their skills, and to discover new ones, as we all jostled and greeted old and new friends and scrambled over the rocks to the various events, always encouraging each other to attempt a skill testing round of something or other!
There were children who had never been to a Family Regatta, parents and grandparents who had never seen their children compete, but remembered clearly what it was like to be a child entering into the events, adrenalin running, butterflies jiggling in their stomachs.
The excitement erupted as Tim Squirrell announced each event. He was the center of the fray that directed and held it all together.
As an adult I have not competed in a Regatta in over 50 years. But I was invited and encouraged to join in, which I did with great enthusiasm.
To see all the old and new BNIA families in one location was very special, perhaps close to 100 people. My thanks abound for the organizers, the volunteers and the participants. It's good to be back!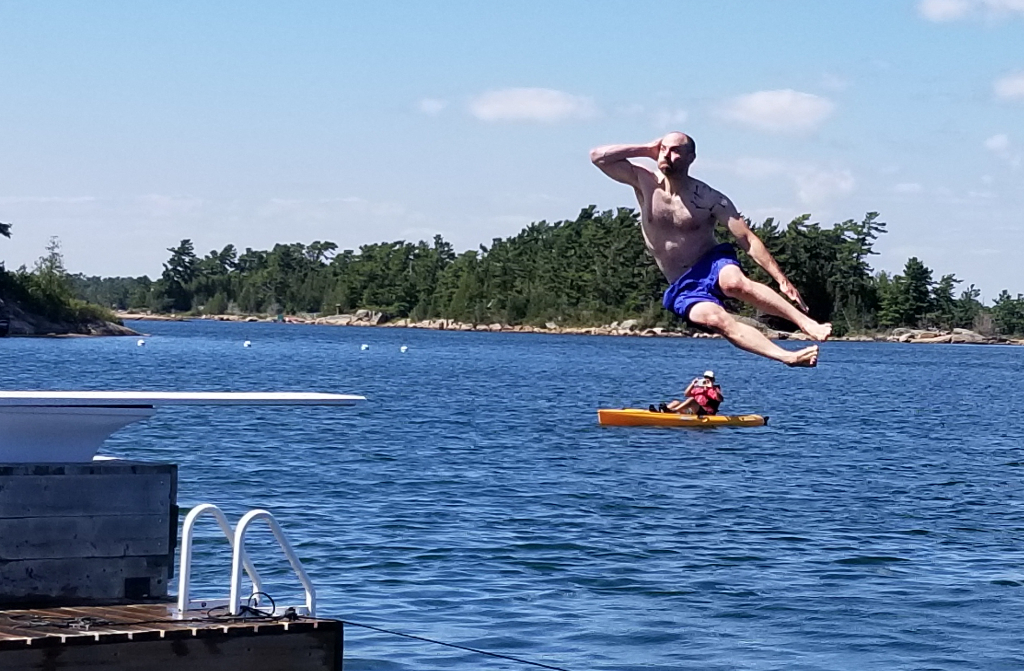 Family Regatta Results
by Mike Major | coordinator
Mixed 5 and under, Overall: Ada LaFrance
Boys 6–7 Overall: Kyle LaFrance
Boys 8–9 Overall: Fletcher Coutu
Boys 10–11 Overall: Max Bacher
Boys 12–13 Overall: Desmond Lynam
Boys 14–15 Overall: Thomas Carter
Boys 16 and over, Overall: Levi Mint
Men 40+ Overall: Andreas Phelps
Junior Boys Jousting (13 and under): Desmond Lynam
Senior Boys Jousting (14 and over): Myles Miller
Girls 6–7 Overall: Georgia Lynam
Girls 8–9 Overall: Penelope Knox
Girls 10–11 Overall: Kira Lynam
Girls 12–13 Overall: Hope Lynam
Girls 14–15 Overall: Megan Rauenhorst
Girls 16 and over, Overall: Katheryn McEwan-Morgan
Women 40+ Overall: Justine Knox, Sue Buckley
Junior Girls Jousting (13 and under): Heidi Sutherland
Senior Girls Jousting (14 and over): Julianna Dinnin
Kristen Clutterbuck Trophy, Diving: David Day, Katheryn McEwan-Morgan
Lash Trophy, Overall Boys: Desmond Lynam, Kyle LaFrance
Hindmarsh Trophy, Best Overall Girl: Penelope Knox
Ord Family Trophy, Best Overall Family: Lynam Family
Family Regatta Volunteers
Family Regatta would not happen without the help of many volunteers! The BNIA would like to recognize the many people (in no particular order) who helped to make Regatta 2023 a huge success:
Susan Day (at whose spacious island Family Regatta was held); Ted Simmonds; Frank Pointner; Kate McTavish; Tim Squirrell; Jada McEwan; Mike Major; Katheryn McEwan-Morgan; Helen McEwan; Rob Reed; Aiden O'Donoghue; David Day; Deana Day; Jenny Dulmage; Mac Ogden; Jack Christiansen; Aiden Hurban; Mindy Ord; Marianna Ord; Michael Barker; Trina Ord; Sierra Ord; Ute ____.
Regatta 2024, Hansard family steps up!
The Hansuld family has generously offered to coordinate Regatta 2024. We'll be in good hands next year.
---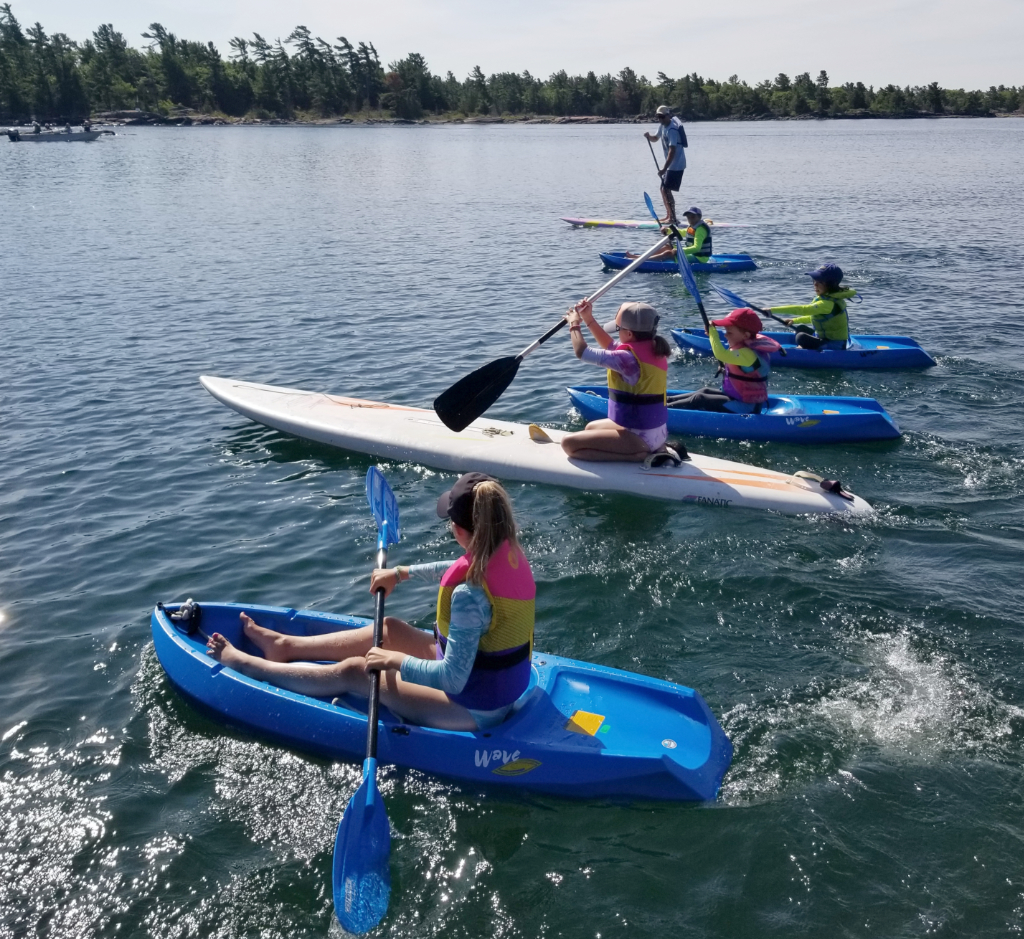 Paddling Regatta attracts a profusion of boats
by Kathleen Kidd | coordinator
It was a perfect day for a Paddling Regatta. Perhaps that's why we had the largest attendance in years (maybe ever), a total of 25 boats. 
As a result, we divided the competition into three races: canoes, kayaks, and a shorter course for the kids in wave kayaks (sit-on boats) and paddleboards.
We had four children (aged 10 and under) compete in the short race and they went like the wind. Way to go Talia, Zebby, LeRoy and A.J. Hassell!
We also had a paddleboarder under 10, Vivian Hassell. All the youngsters finished! It was wonderful to see so many kids come out and show off their paddling skills.
Participants ranged in age from under two to well into their 70s. Wow. Incredible participation.
Thanks to all the volunteers who made the Paddling Regatta possible: Jean and Sarah Podolsky, Matt Sanger, Mary O'Neill and Anne Stewart.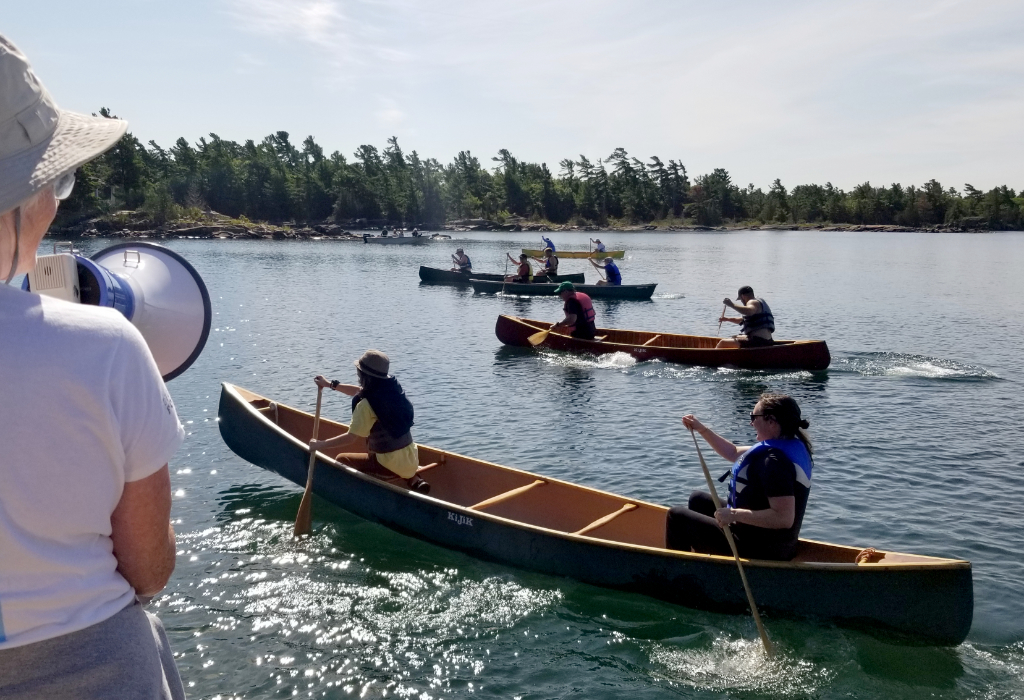 Paddling Regatta Results
Canoe Open Winner: Jack and Chris Lynam – the Ian Stewart trophy
Double Kayak Women Winner: Tiffany and Janelle Hassell (and Compton) – the Lightbourn Cup for first women across the finish line
Kayak Open Winner: Tom Lynam
Kayak Veteran: Bill Morris
Kayak Under 16: Hope Lynam
Double Kayak: Addie and Andrea Coutu
Family Rowboat: The Charron Family
Paddleboard: Mick Hassell
Paddleboard Under 16: Vivian Hassell
Family Canoe: The Ketchum Family
Family Canoe Under 16: Fletcher, Skylar, Evie and Taylor Coutu (all under 10)
Canoe Under 16: Desi and Will Lynam
Wave Kayak (new category for 2023): Talia Hassell age 10!, Zebby Hassell, LeRoy Hassell, A.J. Hassell
---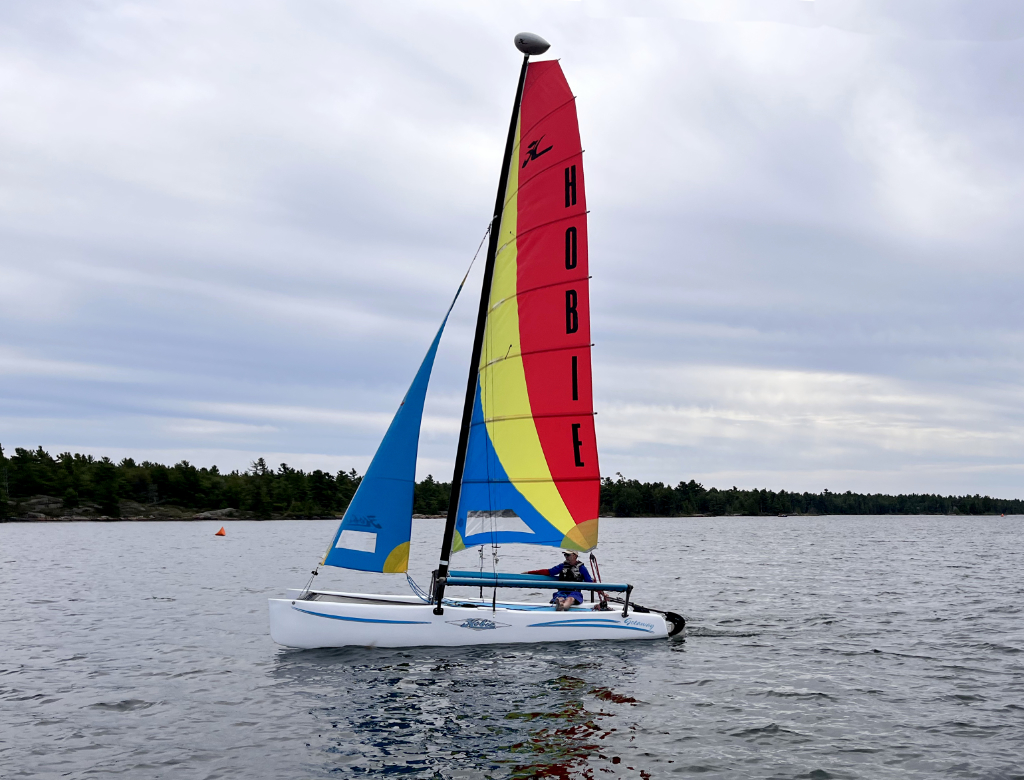 Light winds but many craft for Sailing Regatta
by Harvey Cornish | coordinator
There was some worry about the wind, as it was initially expected to be from the east at 20 knots on Sunday (we got that Monday instead, so certainly glad we didn't postpone the Sailing Regatta!).
On Sunday, the wind for the race was light and sometimes variable, so we had challenging but not exciting conditions. In fact, the wind was so light just before the race that Jordan Ursel might have missed it if not for a tow from Kathleen to the start line!
Special thanks to Angie and Peter Ursel for hosting the BBQ and providing us with some of their own refreshments afterwards!
Sailing Regatta Results
CATAMARANS
Cam Hansuld
Anne Stewart
OPTIMIST PRAMS
Pat Charron and niece Lucy Lahart
Lesley Charron and grandson Jack Charron
Jordan Ursel
LASERS
James Ursel
Mike Rauenhorst
Graydy Ursel
Chris and Fletcher Coutu
Jay Martin
Patrick Thompson Trophy for most promising young sailor: Fletcher Coutu
Morris Family trophy: Cam Hansuld