How Dick Gilman 'sold' a cottage he hadn't built yet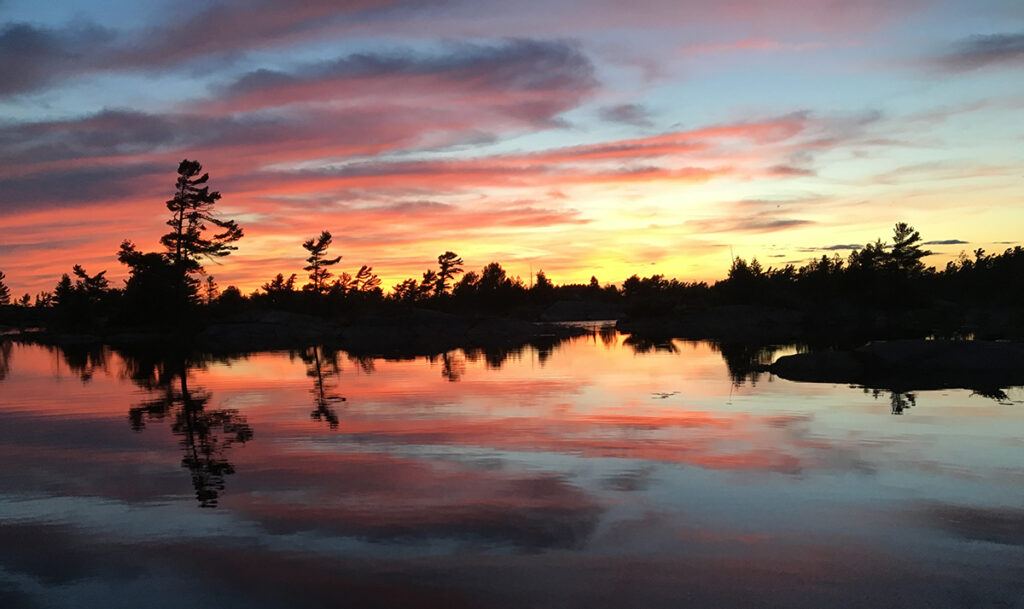 by Heather Gilman
Picture this: set in a tangerine sky, the sun's last golden rays of the day shoot up and out across bands of amber, swiped with pastel pink and purple whorls. For those of us who come to the Bay, these words ignite precious memories of summers past. In our family, when the sun begins to descend below the clouds, we invariably recall the story of how, 68 years ago, my dad, Dick Gilman, bought our little piece of Bayfield Inlet, at Thorley Island.
Dick was born in 1922 in Vancouver, but at a young age emigrated back to England. At 18, he became an RAF Spitfire fighter pilot, and, a year later, a casualty of the Battle of Britain. During his lengthy convalescence his thoughts drifted back to his childhood home, Thorley Park, on the shore of Jericho Beach. He heard the sound of water gently lapping, the feel of smooth, cool rocks, and the tangy smell of evergreens. One day, he decided, he would return there, somehow.
In 1952, with his wife Kay and three young sons, he accepted a position teaching English Literature at an Ontario private boys' school. Hillfield College in Hamilton was eager to hire military officers with toney British accents, dress them in flowing academic gowns, and pay them pennies on the dollar.
"How much does paradise cost?" Dick Gilman asked his friend. "Seventy-five dollars," Tim Roebuck replied with a grin.
One day, Tim Roebuck, a colleague and fellow RAF veteran with a penchant for practical jokes, invited him to spend a weekend at his "private island." Dick didn't believe him. Their meagre salaries did not afford such luxuries.
It took eight hours of rough, winding road, plus another hour of choppy, wet boating to reach Nares Inlet. The sparkling water and rocky shoreline reminded Dick of coastal B.C. That evening, in the glow of a campfire, he looked at his friend and asked him straight: "How much does paradise cost?"
"Seventy-five dollars," Tim replied with a grin.
The price, about $700 today, seems like a steal, but, in 1953, it was an expensive outlay for a slab of rock, many miles from nowhere. However, early the next morning, with a map in hand, Dick set out to explore the neighbourhood with his friend. In accordance with the Department of Lands and Forests guidelines, he marked a few prospective sites by writing his name onto a piece of driftwood and nailing it to a tree.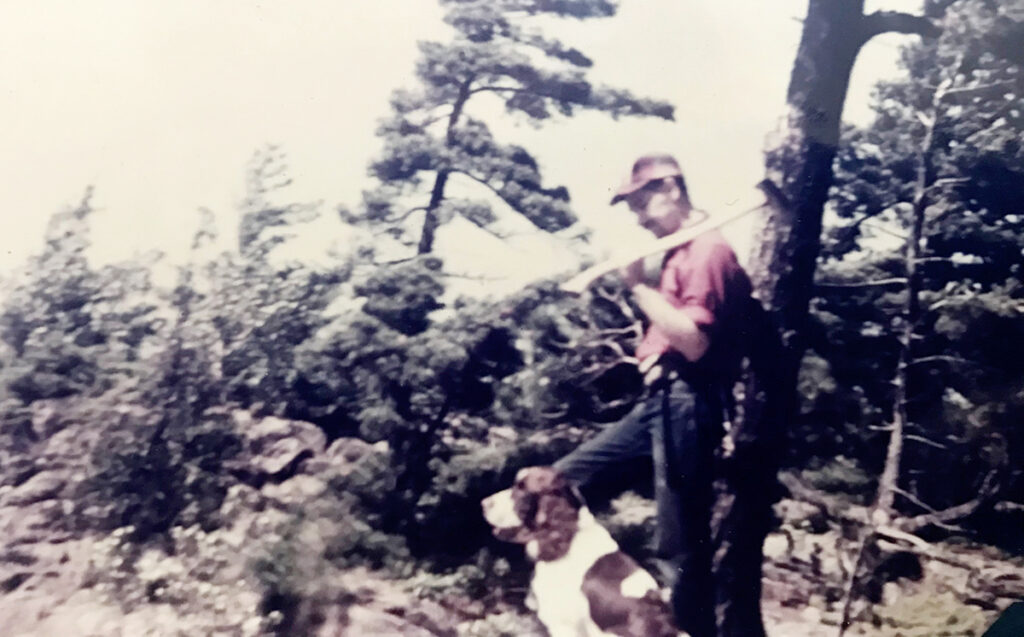 When the shadows began to lengthen, Tim set their course for home, steering the boat by a small island with a north-west prominence. Dick jumped ashore, scampered up its rocky rise, and marvelled at the sight of paint-box coloured clouds set against the backdrop of a wide vermillion sky. With his trusty box Brownie camera, he clicked a photograph, and then affixed his name on to the trunk of a Tom Thomson-esque pine.
Once back in the city, the weekend seemed like a dream. And yet, there was the map with three circled island sites. Chances were that none of them would be available, but no harm applying.
Three weeks went by before he received a response. "Dear Sir," the letter began. "You will be pleased to know that all three of your identified sites are available." Dick's heart pounded. "Upon purchase, you are required to commence building within eighteen months."
The additional cost of building left Dick in such a tail-spin that he barely registered the announcement about northern Ontario's recent and unprecedented growth — until he came to the words "land value adjustments." With horror, he read: "Therefore, we regretfully inform you that, as of this date, the price of a building site has now doubled." He wrote a cheque, but wondered how he would finance construction.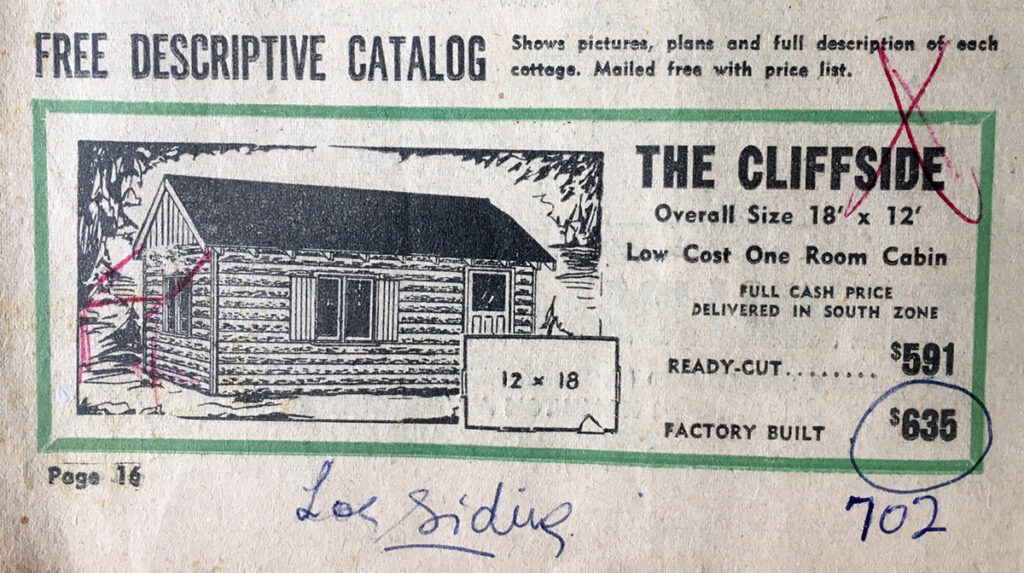 Research into vacation rentals revealed a novel pre-sell holiday formula of 50 per cent down now, with the balance payable one month before occupancy. Dick betted that, by January, winter-weary Canadians would be susceptible to escapist fantasies, and so, employing his best literary skills, he wrote an ad: "Imagine your own private island, a place filled with peace, relaxation, and the sounds of nature. Experience the sweet smell of pine cones, the sight of a crimson canvas canoe pulled up on a little beach, water filled with fish lazily drifting by."
On the verge of submitting the ad to the newspaper, he had a brilliant idea. Locating his summer snapshot of the sunset, he placed it above the text and then, his Remington set to caps, typed out one last appeal, a headline that read: "HERE IS THE VIEW OUT YOUR CABIN WINDOW."
Despite the fact that there was no actual cabin, Dick's self-described "small deceit" worked. He had a "slew of responses" and was able to confirm bookings for that summer. As soon as the deposits were submitted, Dick started his payment plan of $21 monthly for a 12 X 18 "Cliffside Cabin" by Halliday Holiday Homes, a popular prefab building operation.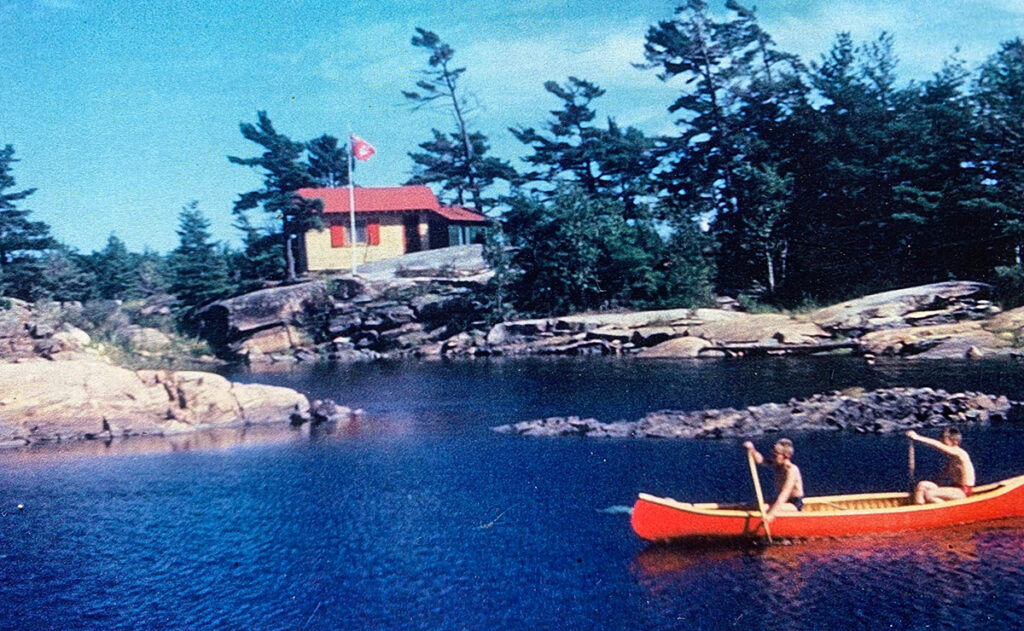 By the time I came along in 1954, my dad had paid for the island and our starter cabin. While the original cedar-log structure has changed over the years, the picture-perfect view of a sublime Georgian Bay sunset remains exactly the same.
Dedicated to Richard (Dick) Gilman, 1922–2016