Red Right Returning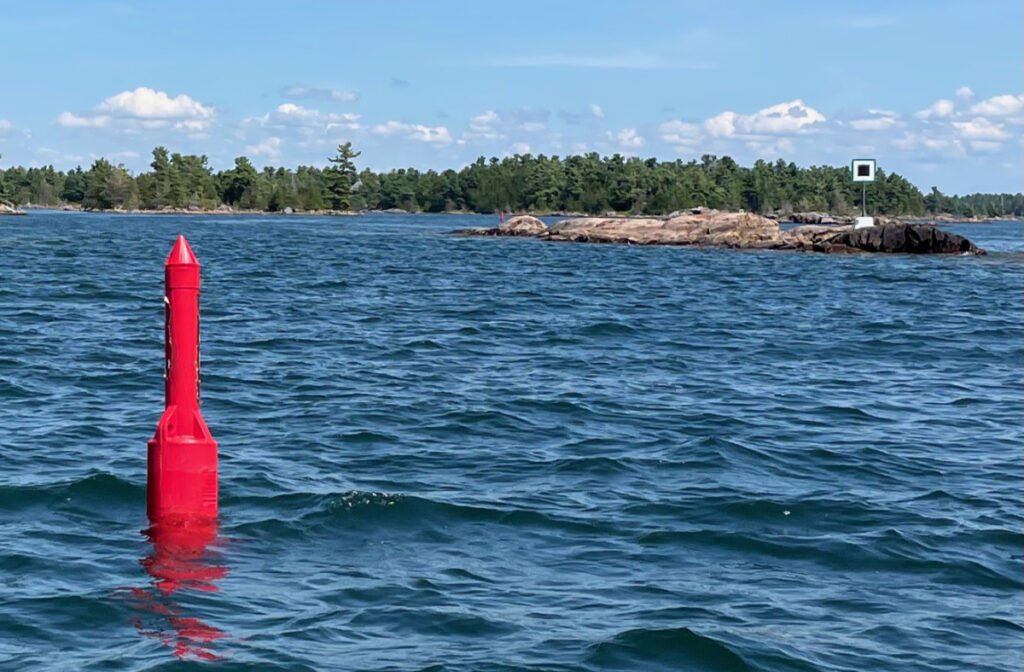 A detailed guide to navigating the marked channels of Bayfield-Nares
by Rob Reed and Art Kilgour
We recently we had a query in the BNIA Facebook group asking if the Red, Right, Returning (RRR) navigation rule applies in Georgian Bay. The answer is YES, although its application can be tricky.
Here's the rule: red markers are kept to the right side of your boat when you're returning from open water into a port or harbour, or heading upstream.
But there's a catch: what if you're not heading upstream (nor returning to harbour) as you travel along the marked channels of Georgian Bay, like in Bayfield-Nares? Here's how that works.
It's all about heading north
If your overall direction of travel is north in the channels, then you're traveling "upstream" and RRR applies. That can be confusing because the channels can head east or west for a while.
If you're unsure of your direction for RRR, consider your location if you travelled in the channel for 15 minutes or more. Would you end up further north or further south?
RRR can also be confusing when you approach a larger harbour, like Pointe au Baril. As you enter the archipelago from Nares and head south towards the Ojibway Club, the red markers should be on your left. But if you bear east to follow the channel to Pointe au Baril Station, you're now heading into a harbour and the markers switch — the red ones are suddenly on your right! Beware.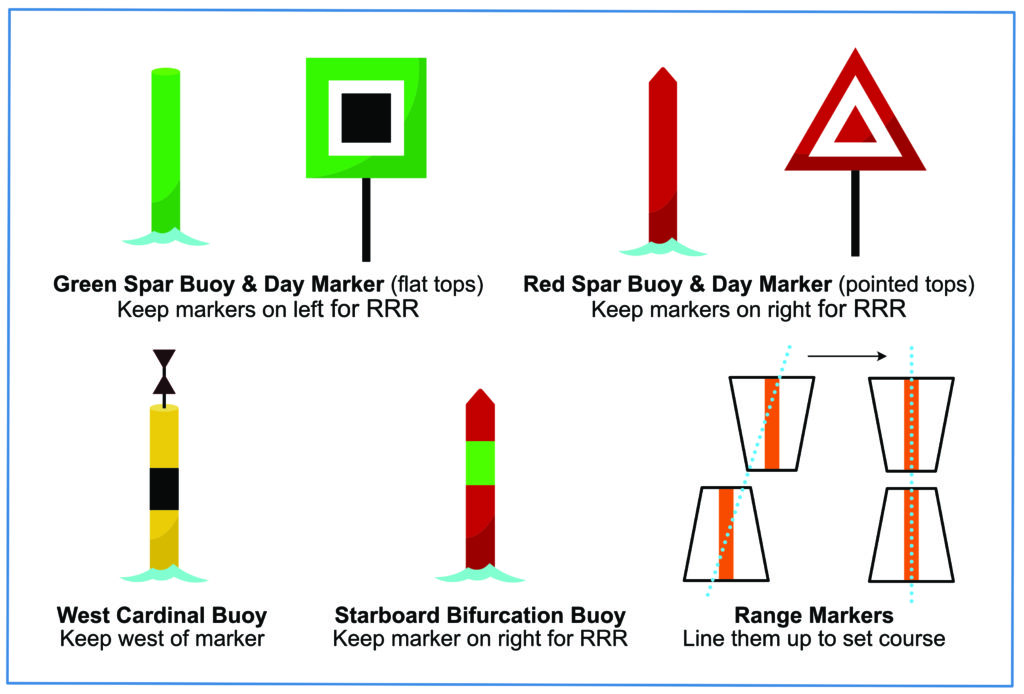 What about the marked channels?
Neither of the channels that lead to the marinas in Bayfield or Nares Inlets have navigation markers as you approach their harbours, so RRR is no guide in either case.
The marked channel in our archipelago bypasses the harbours and only helps boaters who are passing through Bayfield-Nares (north towards Byng Inlet). As such, the red markers are always kept to the right when boating from Nares to Bayfield and beyond (and on your left when you're travelling south).
Now, here's a guided tour of four complex sections of our main navigation channel going from south to north, with notes about some unusual markers.
Warning: these routes are exposed to weather, wind and waves from the open bay. Use caution and check the forecast before you go. Avoid these routes at night, on windy days, or when stormy or foggy weather is forecast.
NOTE: these maps are adapted from the BNIA map, with marker numbers added. The marked navigation channel is the solid red line (with a dotted red line for the Nares bypass).
---
Map 1 | Pointe au Baril to Nares south entrance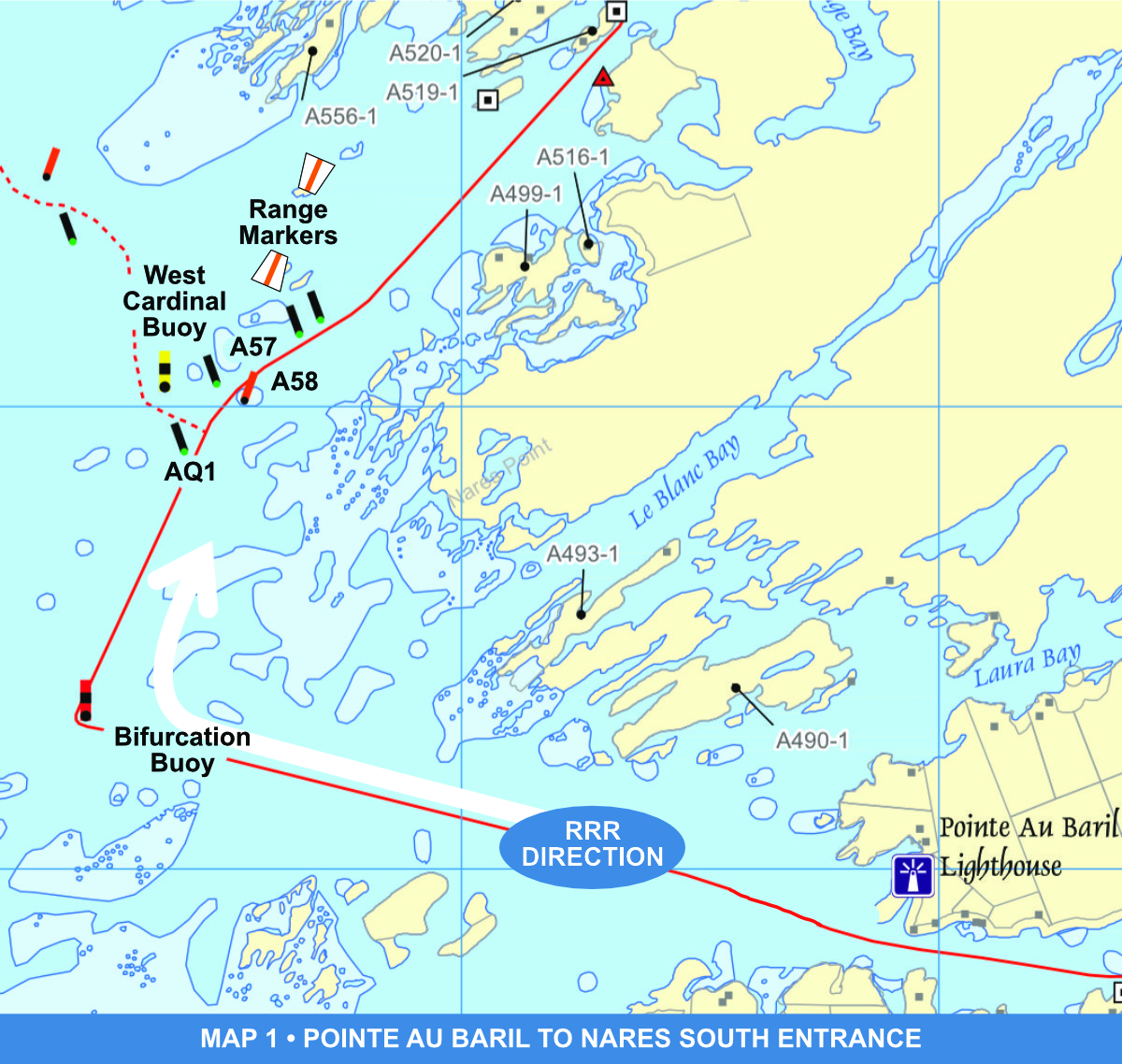 Your overall direction is north, so follow the RRR rule
After passing the Pointe au Baril lighthouse, look for a single buoy about two kilometres ahead, almost due west
This marker has three stripes of red/green/red, it's a starboard bifurcation buoy
Keep it on your right as you pass (as if it was a red spar buoy), turning right towards Nares Inlet
Look ahead for the range finders (see diagram), which help you set a course towards the narrow entrance to Nares
The next marker you approach is a green spar buoy, numbered AQ1, which you keep on your left
Go slowly here if it's your first time, this section is confusing!
There's a pair of green and red spar buoys immediately ahead (numbered A57 and A58), which mark the route to Nares
If you want to go into the inlet, follow the oncoming spar buoys (red and green) and fixed day beacons (red triangles and green squares), always using RRR
---
Map 2 | Nares Inlet bypass towards Bayfield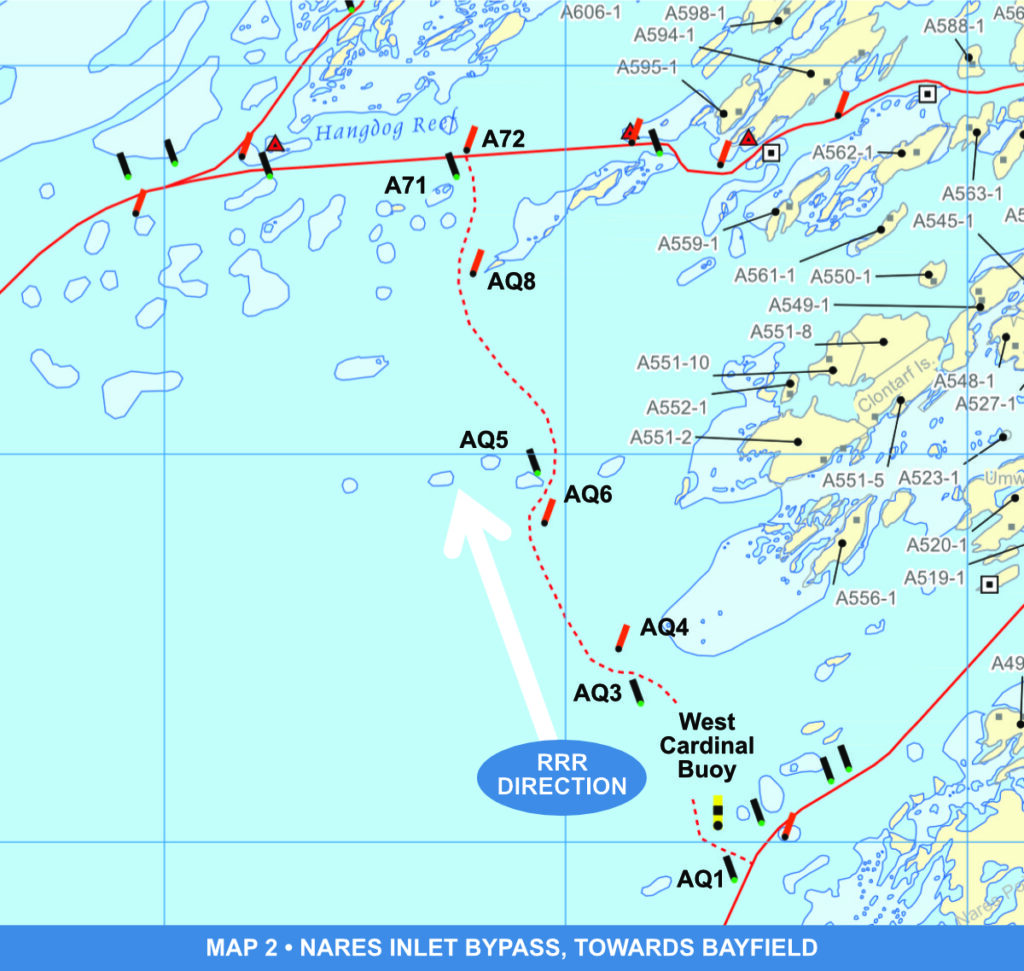 Pass the green (port) buoy AQ1 on your left, then turn left towards the nearby yellow/black/yellow marker, which is a west cardinal buoy
The safe water here is to the WEST of the buoy, i.e., towards the open, so keep the cardinal buoy to your right
From here you'll travel north for about two kilometres towards Bayfield
It's a winding route of six red and green spar buoys, roughly in pairs: AQ3 (green) and AQ4 (red), AQ6 (red) and AQ5 (green), AQ8 (red) and A71 (green)
In every case, keep the red markers to your right (RRR) and the green markers to your left
A71 (green) marks the end of the bypass where you rejoin the main navigation channel from Nares to Bayfield
To head for Bayfield, turn left at A71 to head due west, keeping the red buoy A72 to your right (jump to Map 4 below)
---
Map 3 | North entrance to Nares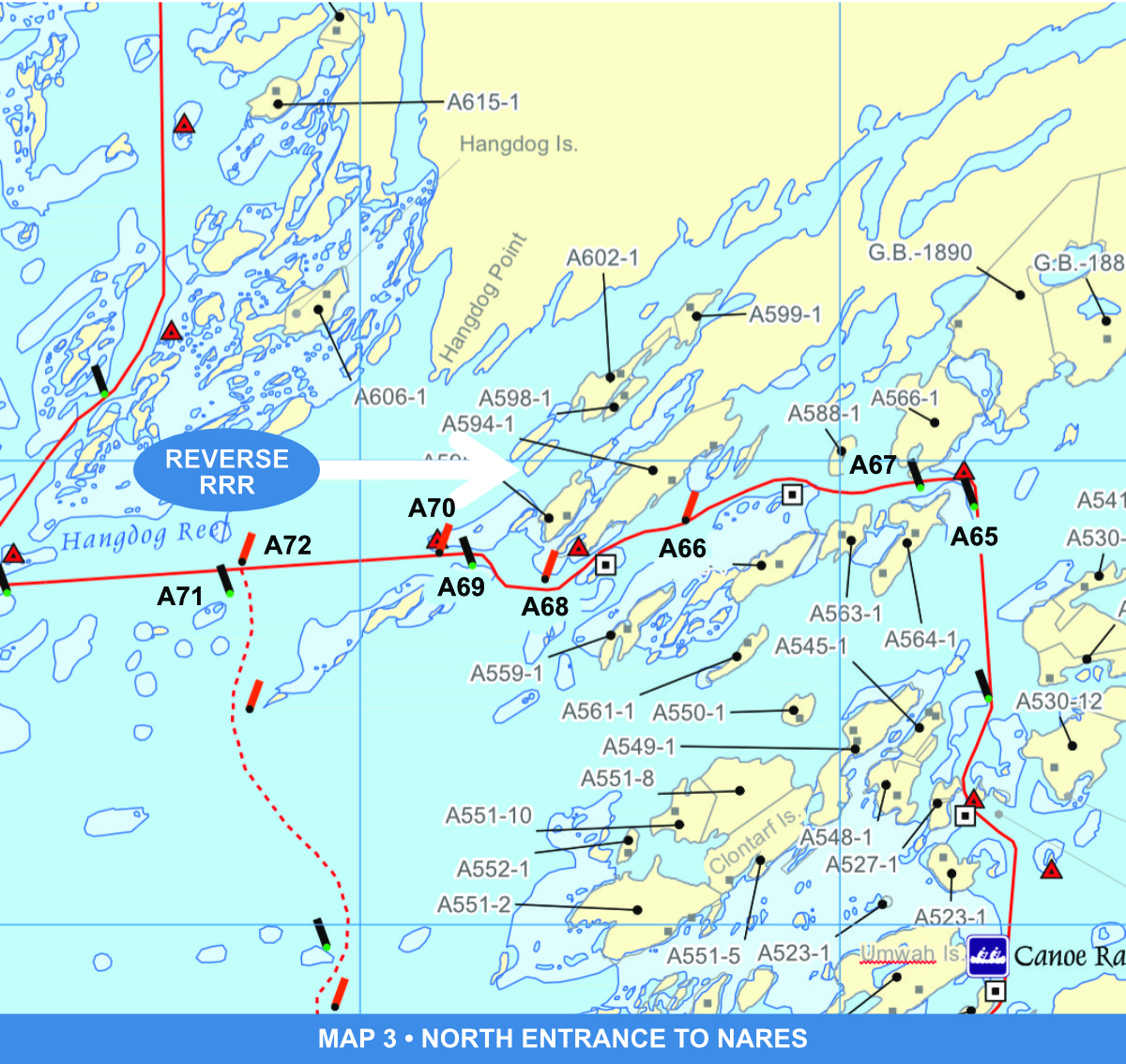 To enter Nares from the north, turn right at A71 (green), taking the next section SLOWLY, because it's complex
There are two red markers up ahead, a red day beacon followed quickly by a red spar buoy (A70)
Even though you're going into Nares (into a harbour), you're travelling generally north-to-south in the channel, so the RRR rule is reversed from what you might expect — keep these two red markers on your LEFT
Keep the next green spar buoy (A69) to your right
Swing right to head towards two more red markers, this time a spar buoy (A68) and a day beacon — keep them on your left as you swing left
In the same channel you'll see a green day beacon on a small island, opposite the red one on the mainland
This pair of day beacons mark the safe entrance to Nares, even though there's a wider channel to the right of the green marker — don't go there!
From here on, follow the marked channel past the next four markers (red buoy A66, a green day beacon, green buoy A67, a red day beacon) until you're safely into the wider, deeper waters of Nares Inlet
---
Map 4 | Rounding Hangdog Reef into Bayfield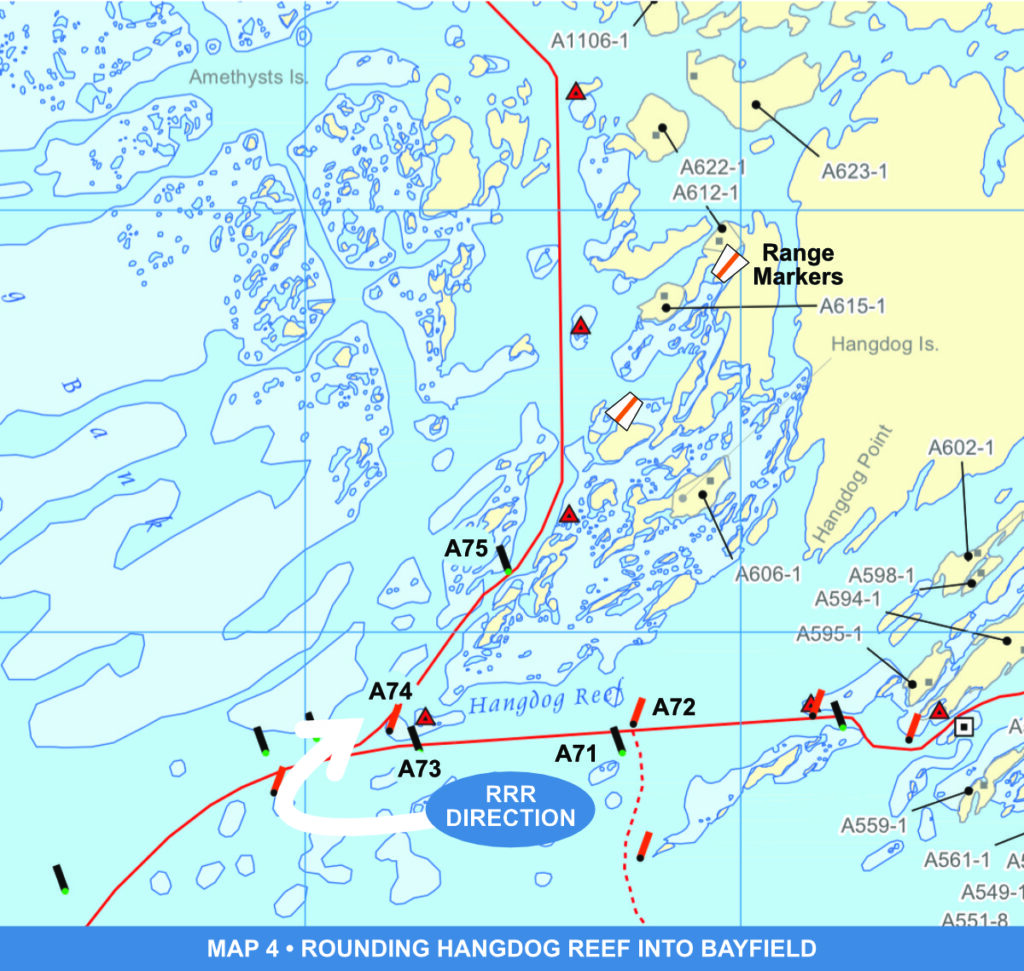 After turning left at the A71 green spar buoy, look towards the open for three markers
They're 500 metres away: a red day beacon on the right (marking the last point of rock) followed by a green spar buoy on the left and another red spar buoy just beyond
Steer for the gap between the two spar buoys, A73, green, (keep it on your left) and A74, red (keep it to your right)
NOTE: there are two green buoys and another red one just ahead, marking a route to the open — don't follow them!
Make an almost 180° degree turn around buoy A74, heading back towards Bayfield Inlet (don't take a shortcut between this buoy and the nearby red day beacon)
Use the Bayfield range markers straight ahead to find the safe heading into this narrow channel
Go slowly and give space to larger boats as you enter Bayfield Inlet
---
When you're boating south
In this guide we described a course from south to north, so we could follow RRR directions, but what if you're travelling in the other direction (which is likely, the first time you do it)?
Study your charts and the instructions before you go. Generally, you'll navigate the reverse of RRR going south through Bayfield, around Hangdog Point, into Nares, on the Nares bypass, and into Pointe au Baril.
If you want to learn more about navigation, there are lots of resources available, including comprehensive courses from the Canadian Power and Sail Squadrons. For a recent (2022) poster of all markers and navigation aids, go to here (horizontal) or here (vertical).