In Memoriam
2019–2020
2018–2019
2017–2018
---
John Hansuld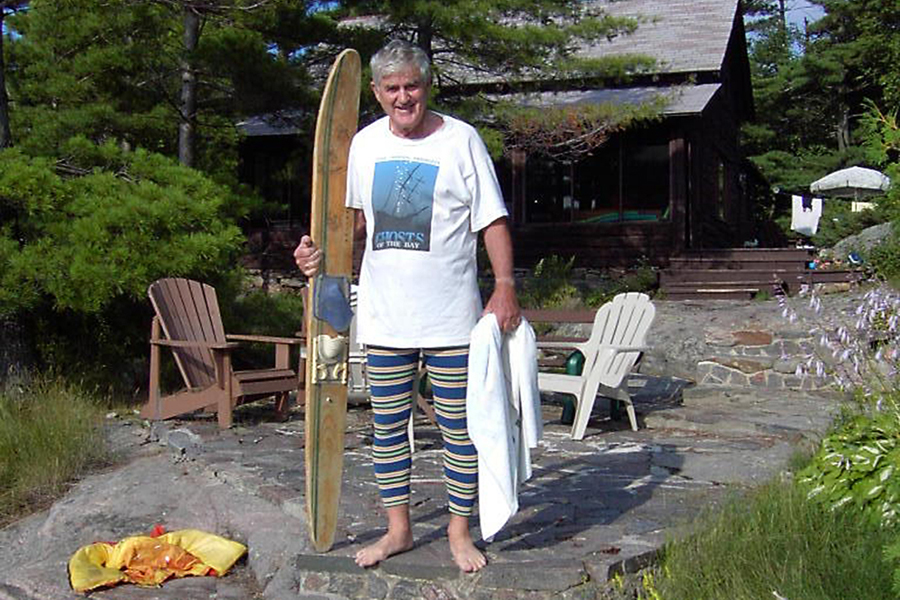 I have known John for more years than I care to count. I probably first became aware of him at a very early regatta when he helped with the canoeing events by towing canoes all over the course and acting as crash boat for the inevitable spills. Never a complaint, always smiling, always helpful — that's how I remember John at the regatta.
John served for many years on the BNIA Board and was President from 1993–1996. John's contributions to the Board were many, but what all of us who served with him will remember was his ability to cut to the chase, to isolate and concentrate on what was important and to get things done.
This was all in John's retirement years. Before that, he had a 29-year career as a geochemist, working in the mining industry and travelling the world with his wife, Jane. He earned his doctorate from McGill University in 1961 at the age of 30, saying that the toughest part of it was passing a mandatory French exam!
He also learned to swim that year, which laid the foundation for many years of watersports on Georgian Bay — sailing, windsurfing, boating and water-skiing (he slalom skied until he was 75). He quipped that swimming prowess didn't save him from ruining many boat propellers on the shoals of Bayfield Inlet.
It was inevitable that John's sense of commitment to the community would lead him to stand for election to the Township of the Archipelago Township Council, which he did, serving from 2003 to 2014.
For 11 years John carried on just as he had at the BNIA, earning the respect of everyone he worked with at the Township Council with for the same no-nonsense, even-handed approach to every task set him. His main responsibility was Planning and he was an excellent Chair of that Committee.
Long-time Township Reeve Peter Ketchum says, "I want you to know how much I valued John. He used his special talents to make people want to do better. He worked hard and he expected others to do the same. But he always wanted people to have fun while they worked. His special brand of humour was always appreciated."
When I was elected to Chair the Planning Committee, John reminded me of an important fundamental: "There are no precedents in the Archipelago," he said. "Every property is different and Planning needs to take into account the unique characteristics of each."
This has been my watchword ever since as I try to follow in John's well-trodden path.
— by Peter Frost
John's family obituary is available at obittree.com — just search his name.
---
Tim and Peg Roebuck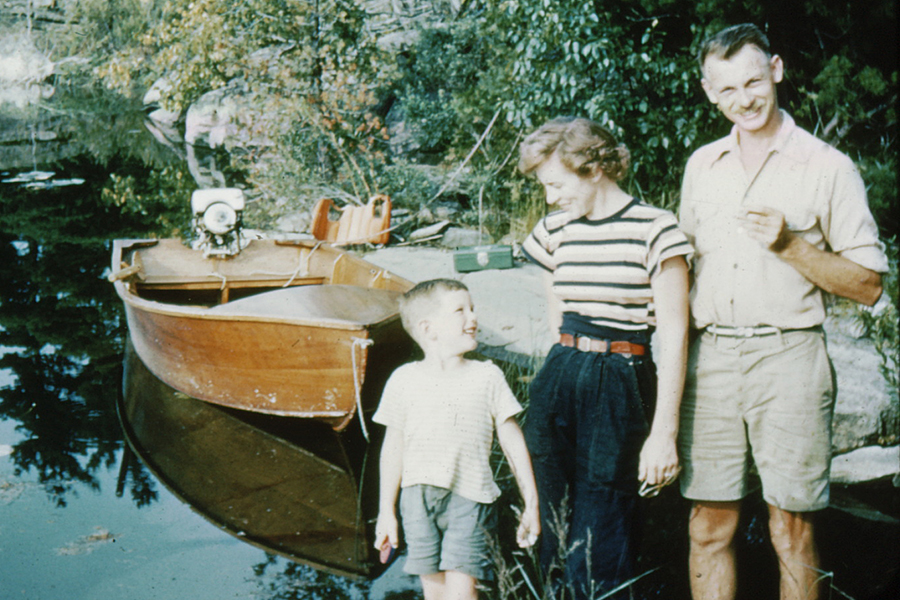 In the early years, Tim and Peg lived a few places in Ontario, from Hamilton to Kapuskasing, and in the 1960s they spent a few years in Etobicoke but then moved to Barrie area. Since 2002 they have lived in Kingston. But, like many, the Bay is where their hearts resided.
Everyone in the Roebuck family and beyond have heard this origin story. It starts with my dad, Tim, saying: "We got off the train and Gay Gordon [his friend] said, 'We just bought an island — why don't you buy one too?' "
And so, in 1952, the friendship with Gay and Wendy Gordon led to a decision that deeply enriched the lives of the Roebuck family. Dad learned building by constructing the original cabin from a kit. From then on, almost every morning Dad and Gay would work on some sort of building project together. (Mum spent mornings doing more solitary household tasks like laundry by washboard, and later with the wringer-washer.)
Socializing was a big part of cottage life from the 1950s through to the year 2000. Gay and Wendy, as well as Christine and Tommy Wilson, were part of their close-knit group of friends throughout their 50 years on the Bay. These are the ones I remember most, because we kids all played together.
There were other close friends as well, who would be part of the group for several years or even decades. Every year, they would have a special anniversary dinner from which kids were banned. Of course, being a kid I'm not too sure what actually happened at these celebrations! But I do know there were home-crafted gifts, poetry, a Fumble Fingers award, and much laughter.
After Mum and Dad were no longer able to come to the cottage in the Lost Channel at the very north end of Nares Inlet, they had a photo book at home with pictures of the cottage itself, as well as views from the island. Dad would spend hours looking through the album and describing it to my mother who, by this time, had lost her sight.
They both held Georgian Bay in their hearts to the end.
— Pat Roebuck
---
Stronach O'Neil
With joy and sadness, I announce the passing of Stronach O'Neil. She died as she lived with dignity, love and peace. She moved on to her " land of the light" with joy in her heart on December 18, 2019.
Stronach has been a part of life on the Bay since 1984. Georgian Bay captured her heart as it did mine. We only missed two seasons on the Bay in our beautiful life together in this magical place.
Some will remember her as an amazing energy healer and body worker; others as a neighbour and friend, or all of the above. And some of you may only have known her as the woman with the white hair in the green boat who sat so tall and always had a smile and wave for those she saw.
Her spirit prevails, so take a moment to enjoy the magic of the magnificent place we call "the Bay."
— Barbara Conyers
---
Tony Ormsby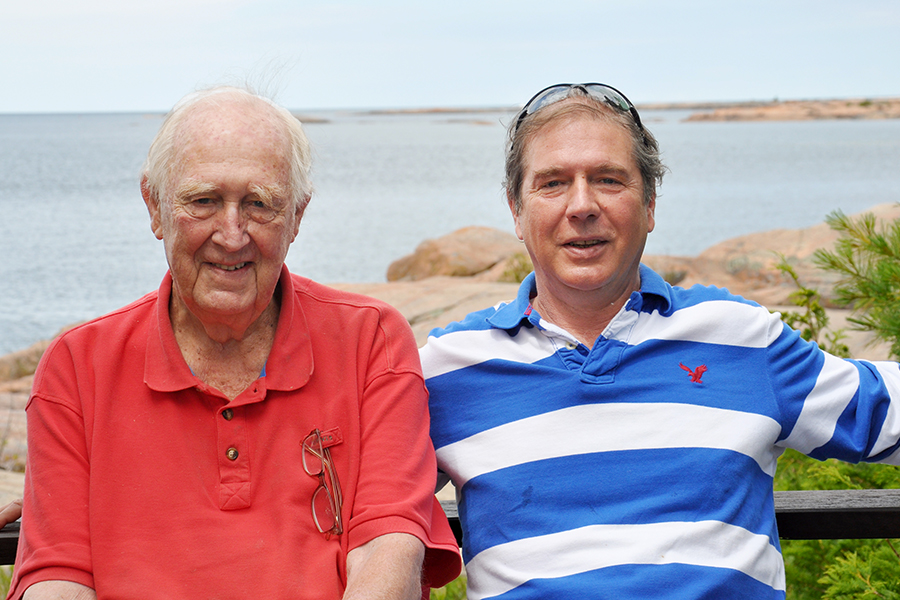 Anthony John Ormsby, or AJO, or simply Tony, died on May 8, 2019 in Toronto. He was in his 93rd year. Tony had moved back to Canada from Scotland at the beginning of 2019 after the passing of his wife Julia in the summer of 2018. Tony was my late mother Ruth's younger brother, commonly known as Unc, to me and my siblings, Ned, Sue and Mary. He was a superb raconteur, a mentor to many, and well known for his graciousness and generosity.
Tony was proud that he had been to the Bay every summer since he was six years old. Summers prior to that had been spent at the Ormsby family home, Ballinamore, in County Mayo, Ireland. The family would return to the old country by ship each summer. Despite the fact that he resided in Scotland for the past 30 years or so, he returned to Canada each year for about six weeks in the summer residing at his island, Yrrah, in Nares Inlet.
Yrrah was Tony's favourite place in the world. He built a 10′ x 14′ cabin in the late 1950s which he regularly expanded over the years. It was his place to connect in Canada with our extended family and to spend time with his sons Tony and Tim and their families.
Tony left Ontario to finish his secondary schooling and attended Royal Roads Naval College in Victoria, B.C. He left Royal Roads as a lieutenant in the Royal Canadian Navy. With the war over, he returned to Ontario, joined the reserves, and got on with a very successful professional career as a chartered accountant and senior business executive in both the US and Canada. He served many not-for-profit organizations such as the Georgian Bay Association and, for a period, as Chairman of the Toronto Harbour Commission.
Tony, and his long-time friend Wally King, made a huge contribution to the Bay through their work to create the Township of the Archipelago. In the early 1970s, Tony and Wally revitalized an otherwise inactive GBA and led the battle to create the Township. For this he was made an Honourary Life Member of the Georgian Bay Association. The story of their work is recounted in the lovely book, Passion for Georgian Bay, The founding of the Township of the Archipelago, by Michael Erkelenz (see here for ordering info).
A few years ago, I asked him how they had found their way around the Bay. He was cruising before the small craft channel had been completed, before the strip charts were available and well before the advent of Loran or GPS. There were no navigational aids such as buoys up the shore. The large-scale charts really were not a huge amount of help for nearshore cruising.
I'll never forget his response. "Simple," he said. "There were more fishing lodges in those days. They usually had a map of their area local available. Often, it was in the form of a paper placemat."
So, he would stop in at all the fishing lodges, have a meal, and pick up the local map. With no navigational equipment other than a compass and no communication device whatsoever, he explored the Bay. It seems remarkable today.
I remember him being particularly relaxed when out for a sail in a gentle westerly with his leg hooked over the tiller as he puffed on his pipe. His sons Tony and Tim remember a slightly more hair-raising cruise on the Bay when the storm winds were so strong that the chain plates started pulling through the decks!
As much as he loved the Bay and boats, his real affections were for his immediate and extended family. And if the family included a dog, well, so much the better. Tony's presence will be much missed by many in Canada, Scotland and Ireland.
— by Tom Martin
---
Suzanne Margaret Logue (née Carpenter)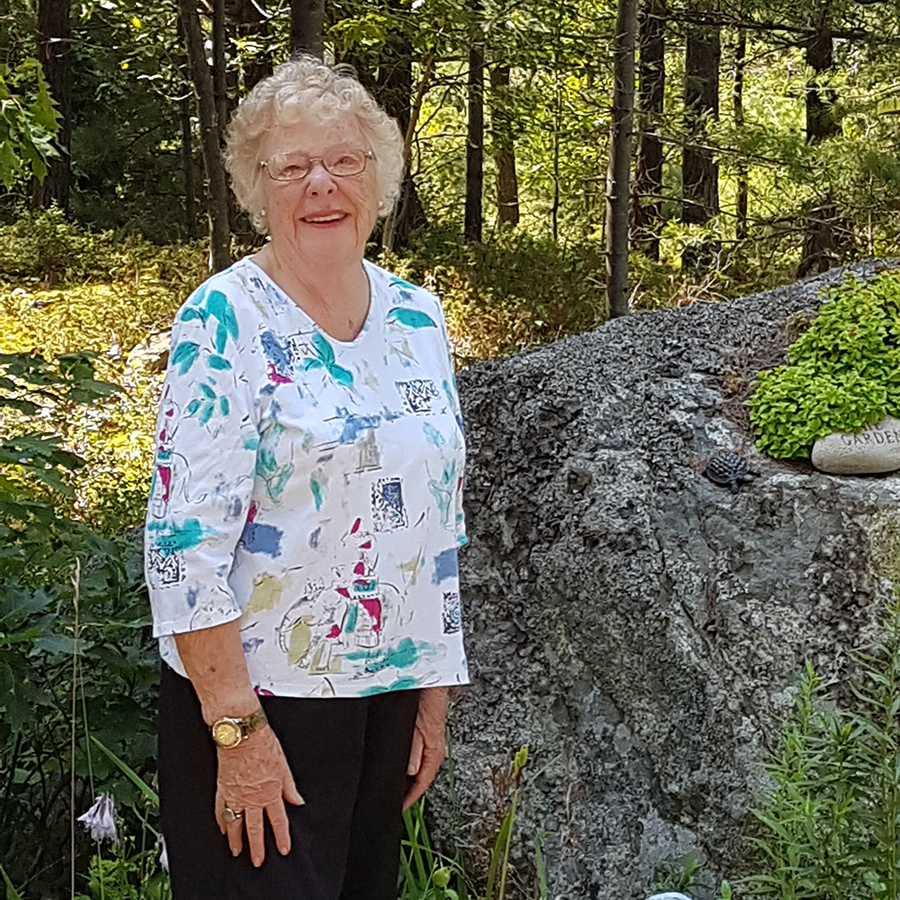 Suzanne Logue passed away peacefully at her home in Toronto on June 1, 2018 in her 85th year. Suzanne's grandfather, Lt. Col. Walter Stewart, purchased the parcel of land on Gibraltar Island in 1905. She would visit the property with her parents and brother. It wasn't until the early 1990s when a cottage was finally built and recently there was an addition, where she got to enjoy the breathtaking view of Georgian Bay.
Suzanne loved cottage life on Gibraltar Island. Every trip up north was with a van full of plants and numerous bags of soil. Once on the island family members never knew where she was half the time. She could be found atop a rock mass in her blue crocs watering the plants (more like rocks), telling us that she just saw the bear at the end of the dock while on a walk like it was nothing; sitting on the deck late at night with a glass of wine oblivious to all the mosquitoes biting her or trying to put air into various floatation devices all of which were full of holes.
Her favourite place of all was tending to her beautiful garden, which will be one of her final resting spots. She will finally get to be at the cottage year round. What more could you ask for?
She will be missed and remembered forever by her family: as a wife to Charles, mother to Susan, Judy (Greg), Jennifer and Scott, grandmother to Ryan, Callum and Hadley; and by relatives and close friends whom she loved dearly. She will never be alone and will always be in our hearts. A forever blooming flower on Gibraltar Island.
— by Jennifer Logue
---
Jim Prentice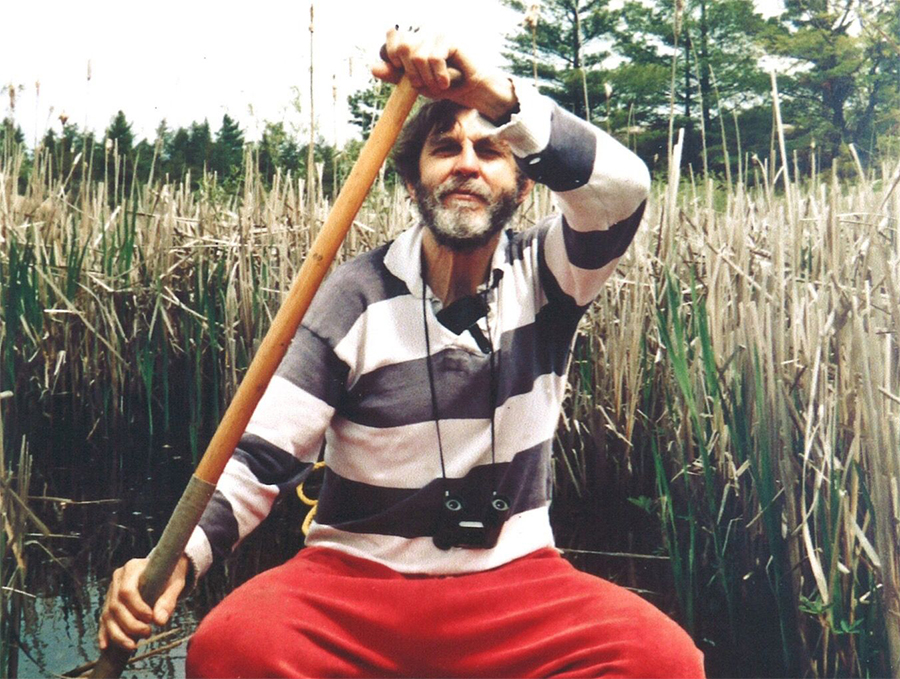 Jim fell in love Bayfield-Nares when visiting Tony and Mary Ketchum at Cratloe in the spring of 1979. After that, Jim and I holidayed in Nares almost every summer, before discovering Cedar Island in 1990. Jim decided that we couldn't buy Cedar unless it had at least one pine tree; luckily it had two.
We spent every summer in the Bay for the next 22 years, often planting more. Jim found the waters of Bayfield/Nares wonderful for sailing, windsurfing, and canoeing, and he loved introducing others to these sports.
And rowing! We would arrive at Bayfield in the spring, load up Snow Goose, and row to Cedar in 40 minutes, reversing the procedure in the fall. Or he could be seen in his shell in the early morning, rowing out to sing with the loons. There were wonderful short paddles to explore or visit friends; longer trips took us to Painted Rocks and beyond.
Among the joys of Cedar Island were the creatures we learned to love there. For several years, a tree frog made her home under a rock on our deck. There were butterflies, even monarchs, and Jim could watch them for hours. Finally we grew to recognize and love the birds that nested on the island, the gulls that soared overhead and the sandhill crane family that appeared one summer and were fixtures from then on. We also came to know wonderfully friendly and helpful neighbours and enjoy visits from friends and relatives.
Jim loved regattas, reef picnics and singing. In the Bay we always enjoyed singsongs with the Lawsons and other friends — singing continued to be important until the end for him. Jim was still singing a week before he died. I know that many in the Bay miss him.
Editor's note:The Prentices, both brilliant, energetic and fun, are still in my mind's eye, paddling their loaded canoe out from Springhaven, towing their laser. Jim, a competitive oarsman well into his '80s, scoffed at any offer of motorized assistance! They got Nares youngsters hooked on windsurfing, lending their equipment; and hosting fabulous feasts at Log Cabin, then Cedar Island.
We're so lucky to count Alison and Jim as close friends, confidantes, lovers of the Bay and fellow canoe trippers. These fixtures of the Bay, who spent most of each summer here for 39 years, are sorely missed. It's so sad how declining health robs great people of the place they love so well.
— by Alison Prentice
---
Aase Husebye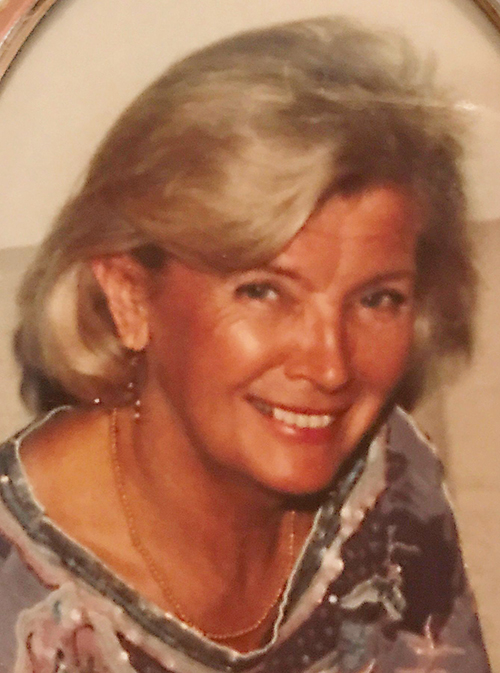 Aase passed away peacefully at home on November 8, 2017, at the age of 89. She was pre-deceased by her husband, Trygve, and leaves behind her son Kim (Diana), daughter Jannike, son Thomas, and granddaughter Alexandra.
As a young woman from Voss, Norway, Aase met her prince charming from Oslo in 1953. After the briefest of courtships, Aase and Trygve were married and bound for a new life in Canada. They had little money, but a determination to build a better future in the west, where free enterprise still prevailed.
Trygve joined Dahl Brothers in 1954 and ultimately managed to acquire the firm in 1960 using great leverage. He then set about transforming the firm from a distributor to a manufacturer of brass valves. Trygve was a quintessential risk-taker, but successfully combined his business acumen and natural engineering abilities to ultimately create a world renowned company.
That success was equally attributed to Aase, who supported Trygve as his silent partner, participating in early business decisions and managing the family household with the most modest of resources.
Aase was known for her flair in design and decorating. It was her original sketch of the six arches which later became the iconic face of the new building for Dahl on the QEW highway. On the home front, Aase started antiquing, often with her closest friend, Erma, long before it was fashionable. She furnished and decorated the family home on a shoe-string budget, but the results were always elegant and sophisticated.
When Trygve was appointed Consul for Norway in 1982, and later Consul-General in 1984, Aase came into her own as a dignitary. Her dinner parties were legendary, as were the annual celebrations on the 17th of May, Norway's Constitution Day. Aase especially loved the annual Consular Ball, with all its pomp and circumstance. They were truly a beautiful couple.
Aase and Trygve were avid tennis players, and later golfers, enjoying play with their many friends at the Mississaugua Club and in Naples, Florida. Aase also was a keen bridge player, and cherished her weekly tournaments.
Summers in Bayfield Inlet, amidst the beautiful granite rocks, may have given Aase and Trygve some reminiscence of their original home in Norway. But there is no doubt that they came to truly love and embrace their new home in Canada. In turn, their contribution to this country and its legacy will endure for many years to come.
After being widowed in 2010, Aase faced many personal challenges. It is to her great testament that she carried on with great strength, fortitude and a positive attitude. We truly admire her for that, which sets a high example for those of us who survive her.
— Thomas Husebye
---
Penny Sanger (née Ketchum)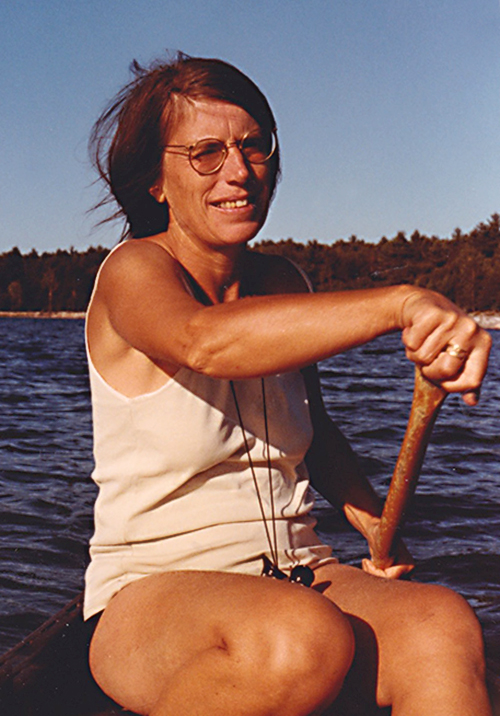 Penny Sanger died on July 13, 2017, a year after her beloved sister and coconspirator, Pat Lawson. The youngest of Phil and Ottilie Ketchum's three daughters ("Alas, a lass"), followed by three sons, Penny grew up in Port Hope, Ontario, where her father was the headmaster of Trinity College School.
A red-haired tomboy in love with the outdoors — skiing, sailing, canoeing —and the wider world, she graduated in English from the University of Toronto in 1953 and chose to forgo the Ketchum family trade (teaching) to work as a journalist on the Peterborough Examiner under Robertson Davies.
On a trip to Southern Rhodesia (now Zimbabwe) in 1958, she met Clyde Sanger, an English journalist. They were married in England but soon returned to Africa — this time, Nairobi — where they lived for five momentous years, witnessing a new Africa emerge as they raised their four young sons.
This experience followed by two years in the 1960s US would determine her political convictions for good. Returning to Canada in 1967, she would spend the next 50 years using her talents as a reporter, editor and campaigner to make the world a better place: she founded a thriving community newspaper (The Glebe Report), exposed the effect of nuclear waste on her hometown of Port Hope in Blind Faith (1982), ran and worked for innumerable NGOs that campaigned for peace and justice in southern Africa, Burma and on her street.
Through all this, she guided four sons into adulthood, introducing them, Clyde and many other new Canadians to the joys and beauty of the land she loved.
For Penny, as for all her siblings, the Georgian Bay occupied a central place in her life: it was here she spent childhood summers, here she brought and met, tested and dumped (literally if not figuratively) her loves, and here she taught her own children to swim on their own and to love the wilderness.
She kept coming up to Log Cabin Island well into her 80s — her last trip with her son Daniel the summer before she died — and, even when she wasn't there, hankered for news of the islands whose rugged beauty and quiet waterways she sought to preserve.
But why did she love the wilderness and Georgian Bay so much? And why storms especially?
She once said it was because they remind us that we're not in control, we don't have all the answers. Nature, for her, was not something to master with machines but something we surrender to in order to learn and to become more truly ourselves. That, it seemed, was exactly what she was doing when she paddled her canoe.
— by Richard Sanger