In Memoriam
2020
2019
---
Don Ord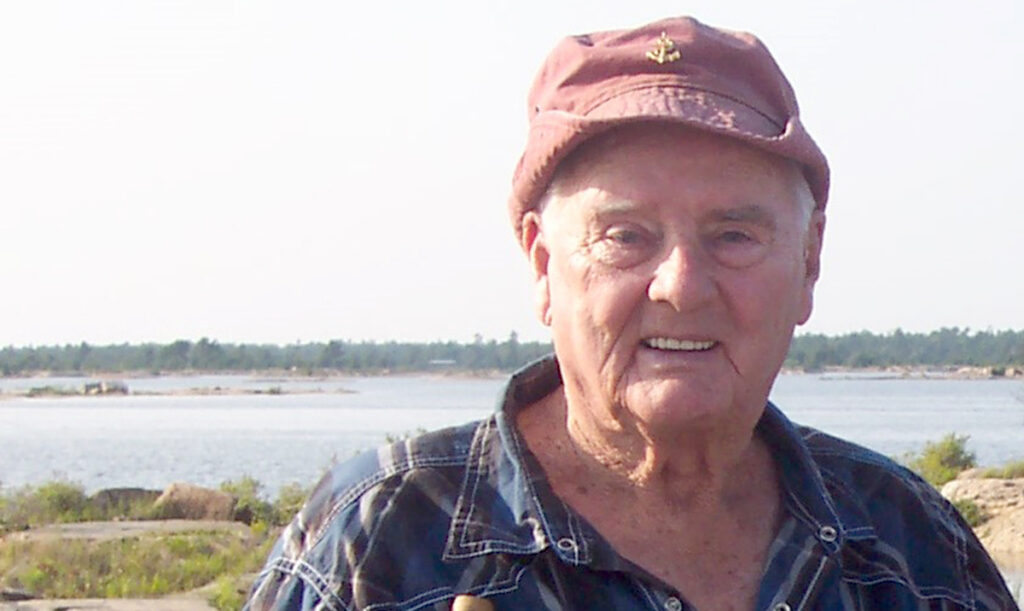 Don had Georgian Bay in his blood. His grandfather, Lewis Redman Ord, and his uncle, Arthur Ardaugh, were the original surveyors of the Georgian Bay islands prior to 1910 — thus the letters A and O that go with island numbers in our region.
They bought up islands for $1 an acre and shared them with family members. Don's father, Redman Ord, settled on island A857 in 1945.
Don spent his summers in Bayfield and at the hotel in Skerryvore — the historical mainland settlement on Shawanaga Bay near Pointe au Baril — where he was a dock boy.
While he was working there, he was asked by an American to drive him home to Houston, Texas one year. He accepted and was "adopted" by this gentleman and stayed there, going to college and working in a bank to help support his family back in Canada.
After a period of time, Don got a draft notice to the army but decided to join the American Air Force instead. He was stationed at Limestone Air Force Base in Maine as an aircraft instrument technician.
On one of his trips driving his friend back to Skerryvore, I was waitressing there, and a summer romance began, which turned into a lifelong love affair and a marriage of 64 years!
After his four years in the service, Don decided to move to Syracuse, NY. because it was close enough to drive to the cottage. He got a job with Liberty Mutual as a car insurance salesman.
We purchased an island of our own, island A859, known as Caterpillar or Blueberry island, with a very unique cottage built by Mr. Gustus. I stayed there with the children and Don commuted on weekends from Syracuse — an eight-hour trip at that time.
In 1968, Don decided he wanted me to see the Bay in the winter, so we made the trip to Hangdog in February. We were greeted by temperatures of -50ºF and had to take the door off the cabin and bring the snowmobile in by the oil furnace to get it started!
As we were leaving, Ray France said, "Don, I'm selling the place in the spring and you should buy it." The rest is history! For almost 20 years we ran Hangdog Camp and General Store (now Bayfield Boat Club), later renamed by Don as Bayfield Services. The variety of work, the challenges and the long hours were just one great adventure to Don.
In 1979, Don bought Minwaubin island A798 and built our home on it. This fulfilled Don's dream of living near the open Bay. He continued working from the island until 2017.
Don loved Georgian Bay, his family and people in general. He is remembered for his laughter, his kindness, his great storytelling, and his "song for the day." He left his mark in Bayfield, as was evident by the lowering of flags to half-mast in his honour when he died last summer. (Thanks for that wonderful tribute.)
Due to Covid-19, the celebration of Don's life is planned for Summer 2021 in Bayfield.
— Arlene Ord
---
Bill Cox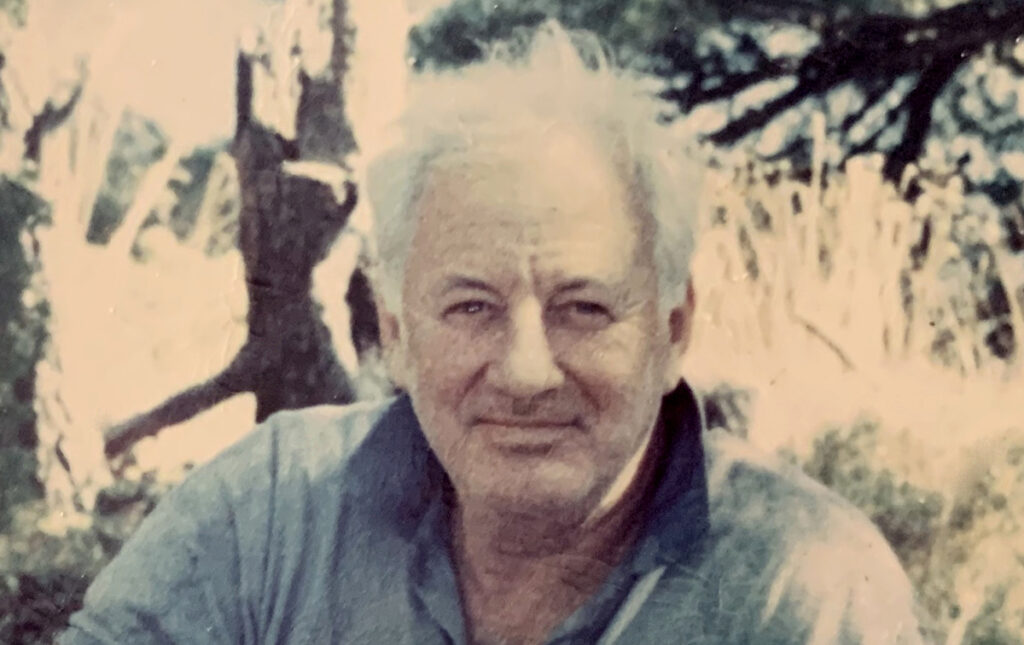 Our father/step-father, William "Bill" Milner Cox, was born on December 21, 1928, and died peacefully at home in Bermuda on July 30, 2020 after a short battle with cancer. He kept his sharp mind to the end and enjoyed smoking Cuban cigars even on his last day. He led a good life and he said that the best thing he ever did was to buy an island in Bayfield Inlet.
He went to the cabin every summer between the years 1968 to 2014, and he experienced some of his happiest and most difficult days there.
He bought island A969-1 in 1969 with our mother, Janine, and we all have incredible childhood memories there. Unfortunately, they divorced and as many of you will remember, his second wife, Vicki, died suddenly on the island on an awful day in August, 1991. It was a terrible time for us all.
In 1996, Bill married his third wife, Rosanna, in Georgian Bay, and they shared many summers up there together. A highlight of his life was in 2008, when we were all up there together with our families to celebrate his 80th birthday.
In 2012, he wrote a short book about his life and excerpts from this were used at his funeral. Here's a description of the path that led him to Georgian Bay, his most favourite place in the world. It started when he was sent to boarding school when he was 12 years old:
In the late 1960s, a Canadian School and College friend Tom Lawson, invited me to assist him in building a vacation cabin in Nares Inlet, Georgian Bay, Ontario. I noticed a 5-acre island with a rustic cabin in nearby Bayfield Inlet and I purchased it in 1969. This transpired to be one of the more sensible things I have done. Members of the family including children and more recently grandchildren have enjoyed it every year since and hopefully in the future will continue to do so."
We definitely will!
— Diana, David, Sarah, Amanda and Tara
---
Lorne Ursel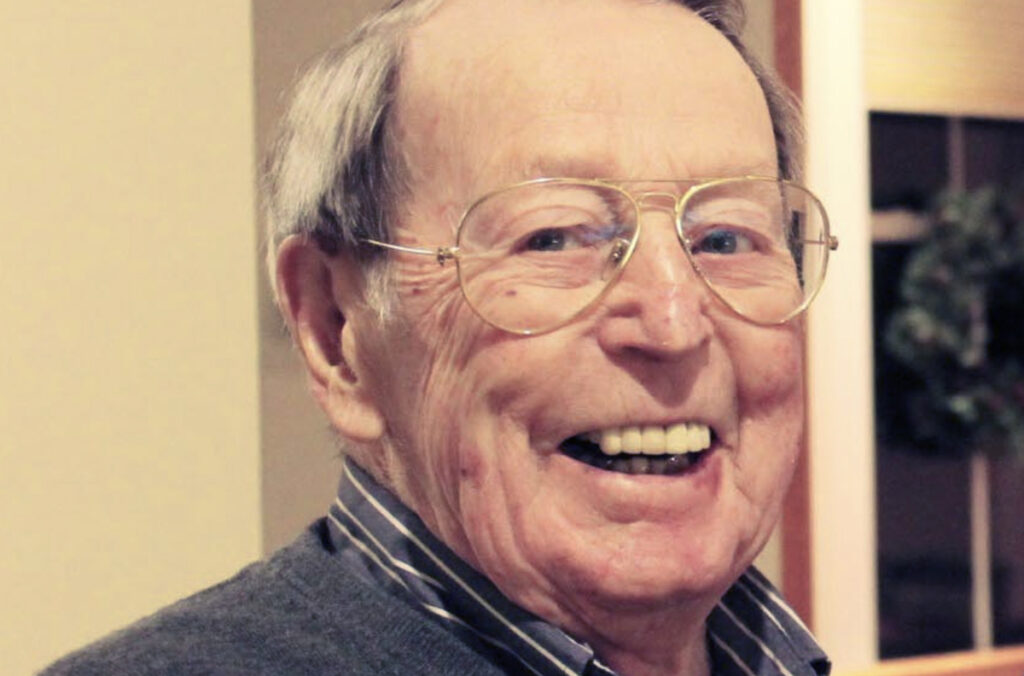 Lorne first started coming to Nares Inlet while courting Pinky Reiffenstein in 1956. As a fighter pilot, he impressed her with a low flight up Nares Inlet! After marrying Pinky, Lorne quickly fell in love with the Georgian Bay and its terrific winds! An accomplished sailor, he helped brother in law John with his many boats, eventually bringing up his own International 14.
Lorne also brought up the first Laser to Nares. Though quite a sailor, canoes were never his favourite, to Pinky's chagrin!
Lorne took special pride in updating the family cottage, A569-1, notably helping Dennis Scale design the current high beamed ceiling. He also enjoyed helping design the second family cottage at Keneu, A541-1.
Lorne was predeceased by Pinky in November 2011. He is survived by Lesley (Paul), Peter (Angela), and James (Elyn) and their families.
— Lesley Charron
---
Tanner Kolody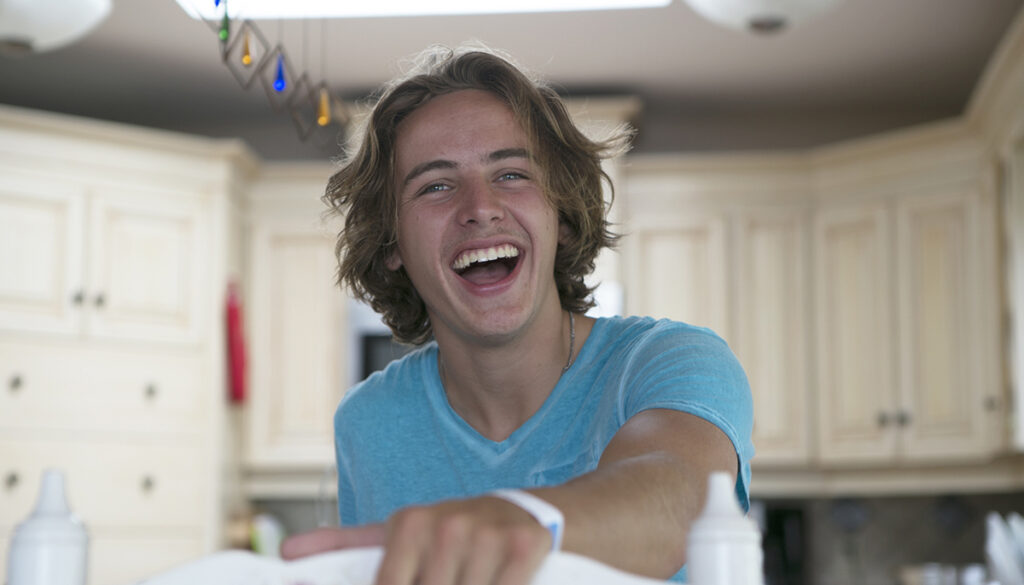 Our son and brother, Tanner passed away on May 23, 2020. He had a love for Georgian Bay and was particularly fond of Nares Inlet. Nares cottagers will remember meeting Tanner when he worked at Springhaven Lodge as a young teen. He was anxious to greet everyone as they approached the dock and wanted to help in any way that he could.
He would come back to our cottage after work and relay all kinds of stories of the people he had met that day. 
Young or old, Tanner had a genuine interest in people, and while he enjoyed his experiences at the cottage, it was not enough unless it was a shared experience, so he spent a great deal of time connecting with his peers on the lake.
When we moved from Nares Inlet in 2018, it was important to stay in the area, so we purchased in Pointe au Baril. Still, Tanner ventured back to his roots in Nares regularly.
Tanner was in his third year of Automotive Engineering Technology at McMaster University, and had also begun studying online to acquire his real estate licence. Tanner dreamed big, and his hope was to someday sell real estate in the Parry Sound area so that he could remain part of the community he valued so greatly.
Tanner would be deeply touched to know that so many friends from Nares have reached out to share with us some of their memories. Thank you so much, as this is very special for us as well.
— Dennis, Alison, Tyler & Tianna Kolody
---
Anna Barron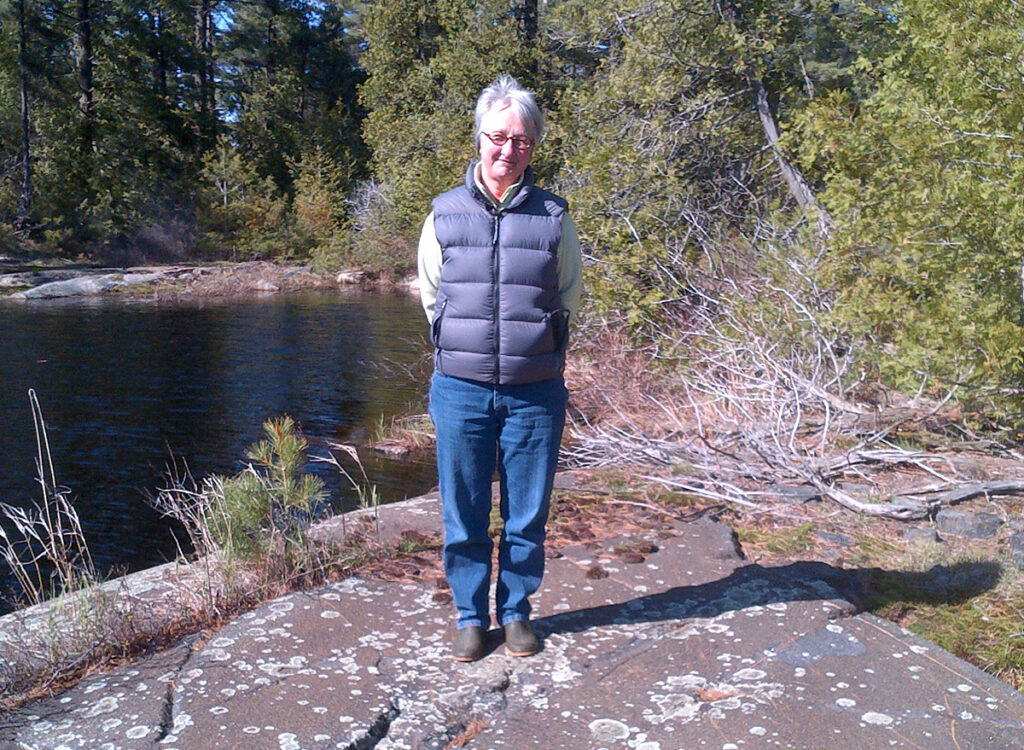 Anna died on September 1, 2020 in a drowning accident at our cottage A850-5 in Bayfield Inlet. If you didn't know Anna, the words of her many friends speak most directly to who she was and what she meant to us all:
"Full of humour and enthusiasm."
"An intent listener, no matter how important or banal the conversation."
"She delivered insights into human nature that often surprised, inspired and sometimes shocked me into seeing the world from a different perspective. I learned many things about becoming an adult from her."
"With Anna, time stood still and she would make you feel that you were the most important person in the world."
"Intrepid."
"Ready to celebrate the big and the small.
"A shoulder to lean on."
"A smart, sensitive and creative force, always with her adorable smile, infectious laugh."
Anna's family connections to Georgian Bay go back to 1912 when her great grandparents motored their boat, the Wrecca (Exile), from Windsor to McGregor Bay (near Killarney Provincial Park, off the North Channel), landing on an island they christened Nepenthe, which now hosts the fifth generation of the Sale family. 
Anna and I spent our honeymoon there in 1978 during what had to be the wettest, coldest week in any September in memory.  For many years thereafter, we spent time in the bay each summer in Pointe au Baril.
Anna and I have been part of the Bayfield Inlet community since 2009 when we finally got around to purchasing our own special place.
She is sorely missed by our children Clara, Simon and Liam, their partners, and our grandchildren Chloe, Soren, Oona and Desmond who are all just beginning to experience the pleasures of Georgian Bay.
Sadly, it will be without 'their dear 'Bidgee'.
— Brian Barron
---
John Hansuld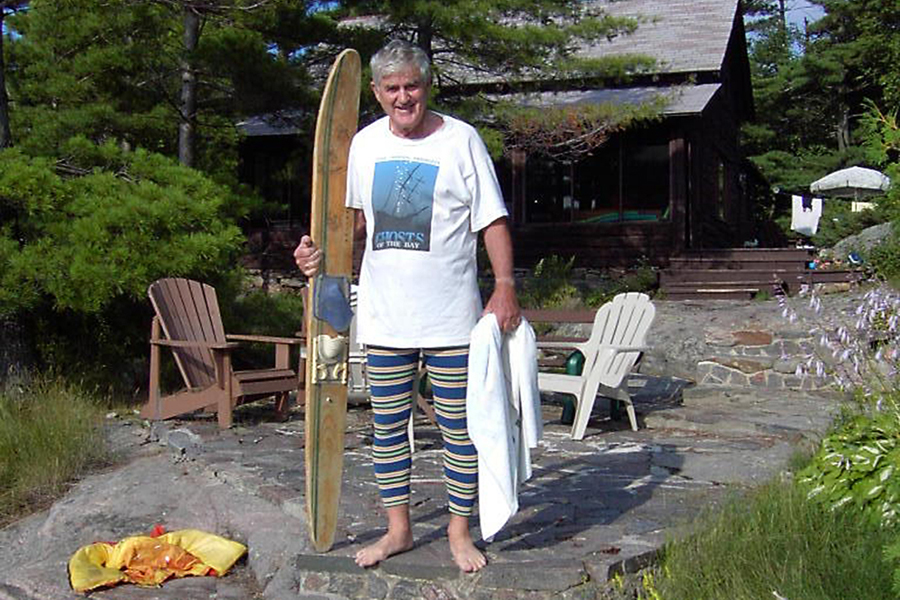 I have known John for more years than I care to count. I probably first became aware of him at a very early regatta when he helped with the canoeing events by towing canoes all over the course and acting as crash boat for the inevitable spills. Never a complaint, always smiling, always helpful — that's how I remember John at the regatta.
John served for many years on the BNIA Board and was President from 1993–1996. John's contributions to the Board were many, but what all of us who served with him will remember was his ability to cut to the chase, to isolate and concentrate on what was important and to get things done.
This was all in John's retirement years. Before that, he had a 29-year career as a geochemist, working in the mining industry and travelling the world with his wife, Jane. He earned his doctorate from McGill University in 1961 at the age of 30, saying that the toughest part of it was passing a mandatory French exam!
He also learned to swim that year, which laid the foundation for many years of watersports on Georgian Bay — sailing, windsurfing, boating and water-skiing (he slalom skied until he was 75). He quipped that swimming prowess didn't save him from ruining many boat propellers on the shoals of Bayfield Inlet.
It was inevitable that John's sense of commitment to the community would lead him to stand for election to the Township of the Archipelago Township Council, which he did, serving from 2003 to 2014.
For 11 years John carried on just as he had at the BNIA, earning the respect of everyone he worked with at the Township Council with for the same no-nonsense, even-handed approach to every task set him. His main responsibility was Planning and he was an excellent Chair of that Committee.
Long-time Township Reeve Peter Ketchum says, "I want you to know how much I valued John. He used his special talents to make people want to do better. He worked hard and he expected others to do the same. But he always wanted people to have fun while they worked. His special brand of humour was always appreciated."
When I was elected to Chair the Planning Committee, John reminded me of an important fundamental: "There are no precedents in the Archipelago," he said. "Every property is different and Planning needs to take into account the unique characteristics of each."
This has been my watchword ever since as I try to follow in John's well-trodden path.
— by Peter Frost
John's family obituary is available at obittree.com — just search his name.
---
Tim and Peg Roebuck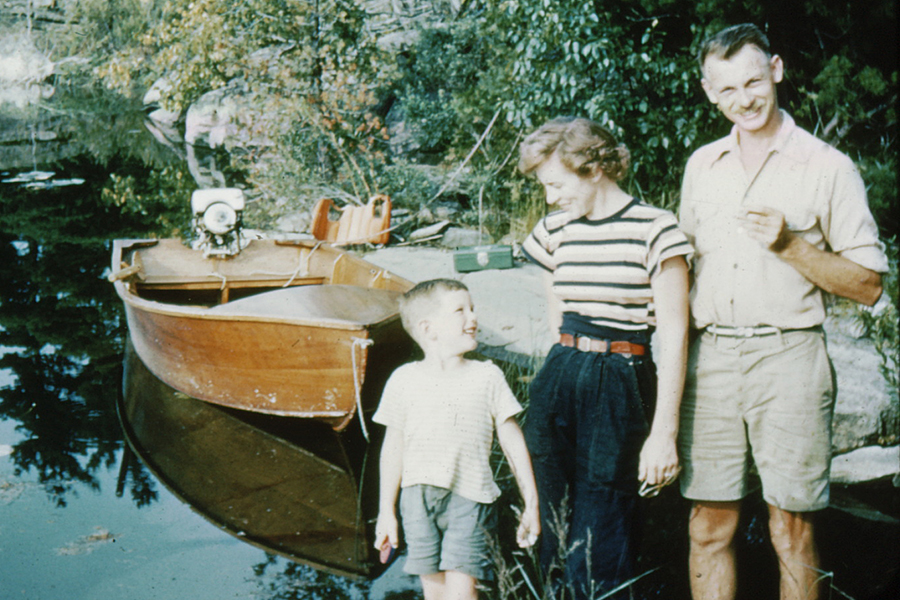 In the early years, Tim and Peg lived a few places in Ontario, from Hamilton to Kapuskasing, and in the 1960s they spent a few years in Etobicoke but then moved to Barrie area. Since 2002 they have lived in Kingston. But, like many, the Bay is where their hearts resided.
Everyone in the Roebuck family and beyond have heard this origin story. It starts with my dad, Tim, saying: "We got off the train and Gay Gordon [his friend] said, 'We just bought an island — why don't you buy one too?' "
And so, in 1952, the friendship with Gay and Wendy Gordon led to a decision that deeply enriched the lives of the Roebuck family. Dad learned building by constructing the original cabin from a kit. From then on, almost every morning Dad and Gay would work on some sort of building project together. (Mum spent mornings doing more solitary household tasks like laundry by washboard, and later with the wringer-washer.)
Socializing was a big part of cottage life from the 1950s through to the year 2000. Gay and Wendy, as well as Christine and Tommy Wilson, were part of their close-knit group of friends throughout their 50 years on the Bay. These are the ones I remember most, because we kids all played together.
There were other close friends as well, who would be part of the group for several years or even decades. Every year, they would have a special anniversary dinner from which kids were banned. Of course, being a kid I'm not too sure what actually happened at these celebrations! But I do know there were home-crafted gifts, poetry, a Fumble Fingers award, and much laughter.
After Mum and Dad were no longer able to come to the cottage in the Lost Channel at the very north end of Nares Inlet, they had a photo book at home with pictures of the cottage itself, as well as views from the island. Dad would spend hours looking through the album and describing it to my mother who, by this time, had lost her sight.
They both held Georgian Bay in their hearts to the end.
— Pat Roebuck
---
Stronach O'Neil
With joy and sadness, I announce the passing of Stronach O'Neil. She died as she lived with dignity, love and peace. She moved on to her " land of the light" with joy in her heart on December 18, 2019.
Stronach has been a part of life on the Bay since 1984. Georgian Bay captured her heart as it did mine. We only missed two seasons on the Bay in our beautiful life together in this magical place.
Some will remember her as an amazing energy healer and body worker; others as a neighbour and friend, or all of the above. And some of you may only have known her as the woman with the white hair in the green boat who sat so tall and always had a smile and wave for those she saw.
Her spirit prevails, so take a moment to enjoy the magic of the magnificent place we call "the Bay."
— Barbara Conyers
---
Tony Ormsby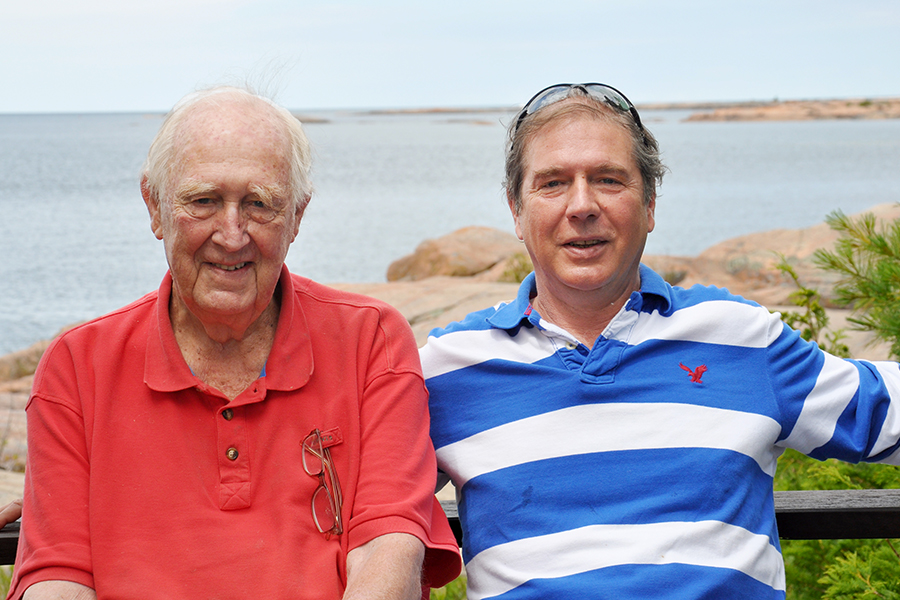 Anthony John Ormsby, or AJO, or simply Tony, died on May 8, 2019 in Toronto. He was in his 93rd year. Tony had moved back to Canada from Scotland at the beginning of 2019 after the passing of his wife Julia in the summer of 2018. Tony was my late mother Ruth's younger brother, commonly known as Unc, to me and my siblings, Ned, Sue and Mary. He was a superb raconteur, a mentor to many, and well known for his graciousness and generosity.
Tony was proud that he had been to the Bay every summer since he was six years old. Summers prior to that had been spent at the Ormsby family home, Ballinamore, in County Mayo, Ireland. The family would return to the old country by ship each summer. Despite the fact that he resided in Scotland for the past 30 years or so, he returned to Canada each year for about six weeks in the summer residing at his island, Yrrah, in Nares Inlet.
Yrrah was Tony's favourite place in the world. He built a 10′ x 14′ cabin in the late 1950s which he regularly expanded over the years. It was his place to connect in Canada with our extended family and to spend time with his sons Tony and Tim and their families.
Tony left Ontario to finish his secondary schooling and attended Royal Roads Naval College in Victoria, B.C. He left Royal Roads as a lieutenant in the Royal Canadian Navy. With the war over, he returned to Ontario, joined the reserves, and got on with a very successful professional career as a chartered accountant and senior business executive in both the US and Canada. He served many not-for-profit organizations such as the Georgian Bay Association and, for a period, as Chairman of the Toronto Harbour Commission.
Tony, and his long-time friend Wally King, made a huge contribution to the Bay through their work to create the Township of the Archipelago. In the early 1970s, Tony and Wally revitalized an otherwise inactive GBA and led the battle to create the Township. For this he was made an Honourary Life Member of the Georgian Bay Association. The story of their work is recounted in the lovely book, Passion for Georgian Bay, The founding of the Township of the Archipelago, by Michael Erkelenz (see here for ordering info).
A few years ago, I asked him how they had found their way around the Bay. He was cruising before the small craft channel had been completed, before the strip charts were available and well before the advent of Loran or GPS. There were no navigational aids such as buoys up the shore. The large-scale charts really were not a huge amount of help for nearshore cruising.
I'll never forget his response. "Simple," he said. "There were more fishing lodges in those days. They usually had a map of their area local available. Often, it was in the form of a paper placemat."
So, he would stop in at all the fishing lodges, have a meal, and pick up the local map. With no navigational equipment other than a compass and no communication device whatsoever, he explored the Bay. It seems remarkable today.
I remember him being particularly relaxed when out for a sail in a gentle westerly with his leg hooked over the tiller as he puffed on his pipe. His sons Tony and Tim remember a slightly more hair-raising cruise on the Bay when the storm winds were so strong that the chain plates started pulling through the decks!
As much as he loved the Bay and boats, his real affections were for his immediate and extended family. And if the family included a dog, well, so much the better. Tony's presence will be much missed by many in Canada, Scotland and Ireland.
— by Tom Martin