In Memoriam
2021
2020
---
Julia Aitchison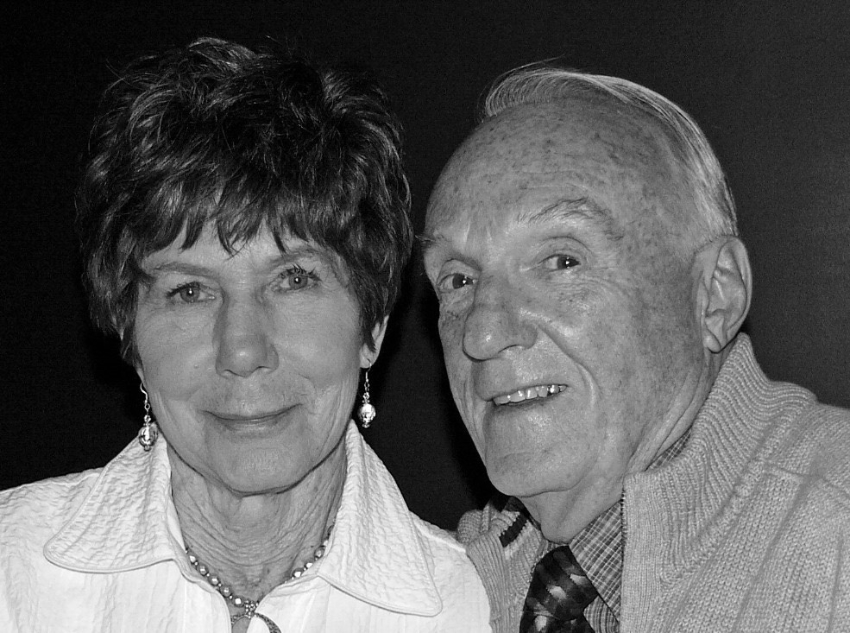 It is with profound sadness that we announce the passing of our sweet mother, Julia.
She was born in Antwerp, Belgium in 1936, the eldest daughter of parents Marie and Tjipke Terpstra and a loving sister to six brothers and two sisters. The family immigrated to Canada in 1948, settling first in Quebec and then later in Innerkip, Ontario.
Mom became a registered nursing assistant in Hamilton where she eventually met Dave Aitchison on a blind date on Victoria weekend. They went to the Stoney Creek Dairy Bar and then to Ancaster to watch the fireworks. Mom spilled a milkshake all over the front seat of the car but that didn't seem to faze Dave because they married in the summer of 1962!
They spent their honeymoon at the family cottage in Bayfield Inlet. While celebrating their nuptials that August, they made a boat trip to Pointe au Baril on a beautiful sunny day. However, the return trip later that day was a little less auspicious as the weather had suddenly turned foul and windy, tossing them around in their little boat. What had they gotten themselves into?
Our parents settled in Ancaster, not far from where they spent their first date, and lived there for 53 years. Summertime meant family vacations on the island in Bayfield Inlet. Over the years, Mom became a loving and proud Oma to four grandchildren and two great-grandchildren.
Our Mom was an avid green thumb and made many friends as a longtime member of the Ancaster Horticultural Society. She and our father won many Trillium awards over the years for their beautiful home gardens. They were devoted members of St. John's Anglican Church in Ancaster where Mom served on the Altar Guild and hospitality committees for many years. Mom was dazzling in the culinary and baking arts! The family always eagerly anticipated her gourmet holiday dinners and baked treats.
Our mother was a strong and beautiful woman, determined, caring and loving, and leading by her quiet example. She was the shining light of our family; when she smiled her eyes sparkled.
We miss her every day.
— by Rodney and Dianne Aitchison
---
Barbara Mary Carlton
Barbara Mary Carlton (née Black) died on August 9, 2021, at Bayfield Inlet, Ontario, aged 86. She was predeceased by her beloved husband, Edward (Ted) Carlton in 2017. Ted and Barbara had five children and nine grandchildren. Their full-time residence was in Cambridge, Ontario where Barbara spent her career as a librarian at the Library and Gallery.
In her university years, Barbara had a summer job at the Delawana Inn at Honey Harbour. This period is when her love for the beauty of Georgian Bay began. However, Ted had grown up with a cottage in Muskoka, so they built a cottage there and spent summers there until they sold the cottage in 1971. 
A cruise on the Parry Sound "Island Queen" to show an international visitor the area re-ignited Barb's quest to have an island property on Georgian Bay. After renting for a few years in Pointe-au-Baril, their friends Doug & Marg Turnbull encouraged them to rent in Bayfield in 1981.
Their youngest son Ted Jr. worked for the Ords at Hangdog Marina that summer. In a twist of fate, he spotted a 'for sale' sign while delivering propane to cottages one day and alerted Ted & Barbara. Within days they had purchased the island. 
They named the island 'Swallowdale', taken from the series of children's adventure books by Arthur Ransome, which Barbara had read as a child. Over the next 40 years, Swallowdale was the centre of the family's summers.
Barbara and Ted developed strong friendships with fellow islanders, with whom they spent many hours having picnics and drinks out on the outer islands. Barbara enjoyed picking blueberries, reading on the dock, time in her kayak, and seeing her grandchildren grow up during summers on the island.
Despite having travelled to many wonderful parts of the world, Barbara thought that the windswept islands of the Canadian Shield were the most beautiful place on earth and often remarked that it was her most favourite place of all. It was fitting that her final chapter closed on a sunny day on Swallowdale Island.
The Carlton family would like to thank the BNIA First Response Team for their quick and compassionate assistance last summer.
— by Chris Carlton
---
Elizabeth Anne Dulmage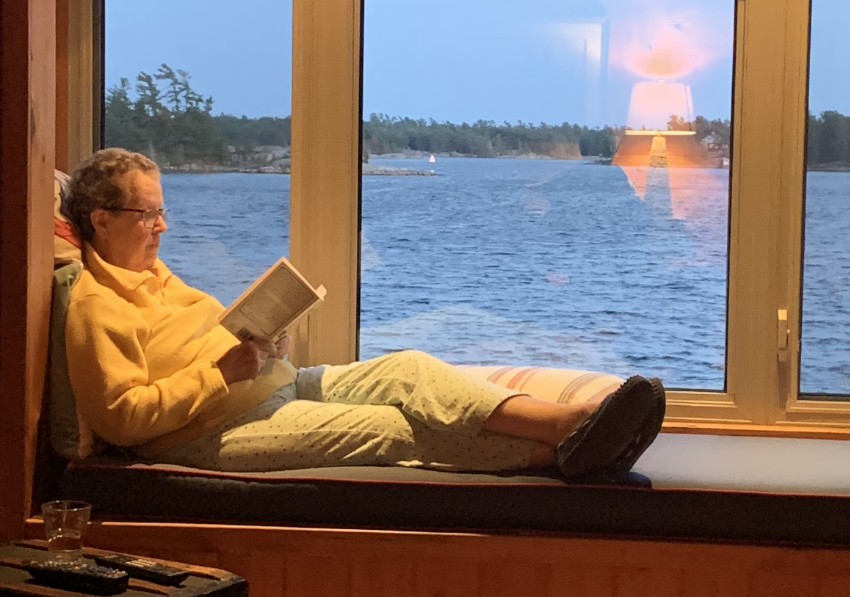 We lost our mother, partner, grandmother, sister, aunt, friend, and matriarch on Dec. 30, 2021, after a six-year battle with cancer.
Liz was six months old when she first came to her parents' (Jack and Dorothy McTavish) cottage in Bayfield 79 years ago, which was on island A778-1 opposite Hangdog Camp and General Store. She never missed a summer. When she was three, she was joined by her brother Robbie. Her childhood summers in Bayfield were spent participating in the first regattas and swimming many long hours with Jeane (Walter) Lowiec. They didn't need a boat; they would just swim to visit other cottages!
One memorable childhood story stands out: the fire on Brown's island, A882, which was owned by her father and used as an office hunting/fishing camp. Over the years she told that story many times: the bucket brigade, the horses brought to the island afterwards to help with the clean-up, the community coming together, the recognition that some form of organization was required to address mutual safety issues in the area. This was the event that prompted the formation of the BNIA in 1958.
As a teenager Liz began dating Stephen Dulmage, another cottager in the area (and dock boy at Hangdog). They married and welcomed their children Jennifer in 1966 and Scott in 1969.
They spent the first years of their married life at her parents' cottage, but by the early 1970s they had embarked to Brown's island, to the small cabin on the eastern side. With the help of family and friends over the years, they expanded that cottage to accommodate their family. Liz's brother Robbie and his family settled into the main cottage on the other side of the island, with a path connecting the two.
For the past 30 years, Liz has shared her island 'paradise' with her partner Peter Bigney, who loves her special place as much as she did. Jenny and Scott eventually built their own cottages on the island, and Liz started a new phase of cottaging — one that revolved around her grandchildren Jack, Emma, Evan and Ella.
Those were probably the years that mom loved the most, being able to have her grandchildren take turns staying with her for 'gramma bootcamp': lunch, crafts, baking and treats.
She also adored her extended McTavish family: Robbie and his wife Linda, her nieces and nephews Kate, Lindsey, Matt, Jamie and Mark, plus her eight great nieces/nephews. So convenient, her entire family all in one place in Bayfield! She was always thrilled when she had a visit from any of them, whether it was an early morning drop-in with small children, or an afternoon visit for cocktails and her yummy appetizers.
She made many friends over her 79 summers at Bayfield, but neighbours Doug Wright and his husband Bruce stand out as a very special lifelong friendship for mom. She also valued her time with Doug Wagener and Mac Ogden, partly because she made no secret of the fact that she valued 'handy'!
Mom loved her view of the main inlet where she could keep an eye on the comings and goings of fellow Bayfielders and opine on them! It is hard to imagine a summer in Bayfield Inlet without this indomitable, lifetime cottager.
— by Jenny Dulmage
---
Ken Gordon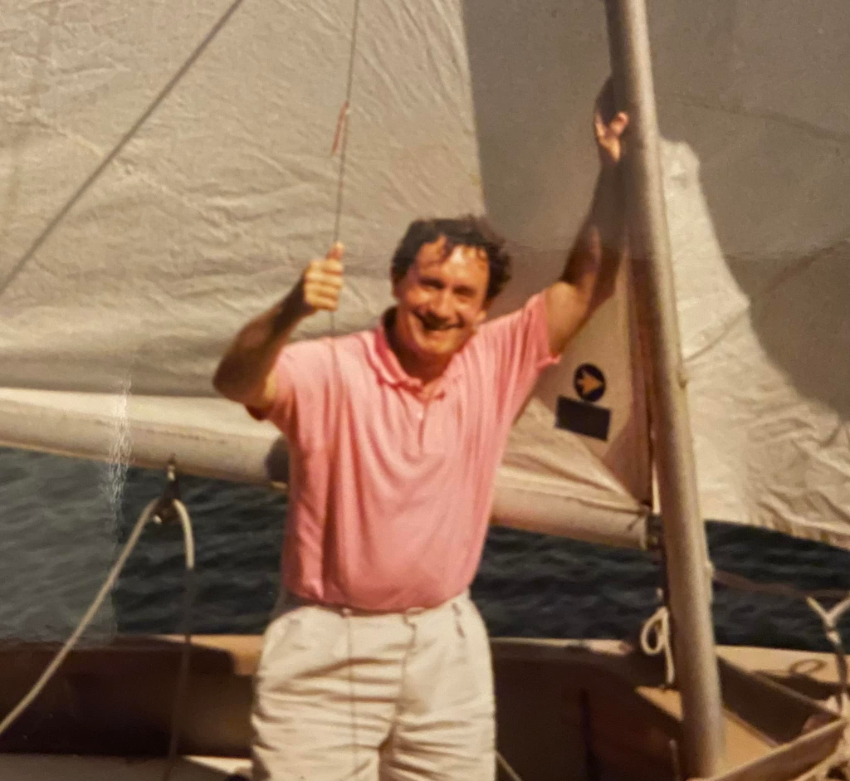 As the saying goes, "There is no zealot like a convert," and on a warm July afternoon in 1962 after maneuvering his Austin Healy 3000 down Nares Inlet Road, Ken Gordon (Dad) first laid his eyes upon Nares Inlet and was absolutely blown away by its beauty.
To be fair, he didn't really have a choice, as his fiancé Valerie McMullen (Mum) had made it clear that love of Nares was a precondition of marriage!
On that first weekend with Valerie's family out on the McMullen island, Dad swam, sailed, met people in the inlet and began a 60-year love affair with what he has always called "the most beautiful place on earth."
As Valerie and Ken built their lives and their family together, the island was always the bedrock of the family, and it still is for their children and grandchildren today.
Ken lived an amazing life and was always thankful for it. He grew up in London during the blitz of World War II, and at 18 he set sail for Canada to seek his fortune. Possessing a sharp and curious mind and buoyed by an indefatigable positive attitude, he progressed from door-to-door encyclopedia salesman (his first job off the boat) to Reader's Digest magazine, where he spent 37 years and retired as President and COO.
Ken was lucky enough to visit over 40 countries during his career, but his favorite place in the world was always Nares Inlet. And he would want me to thank all the BNIA community for the wonderful friendship and camaraderie that you all showed him over the years.
Ken passed peacefully at home last January 3, holding hands with his beloved wife of 59 years Valerie, and surrounded by his children and grandchildren. He was smiling right up until the end.
— by Colin Gordon
---
Charles Andrew Logue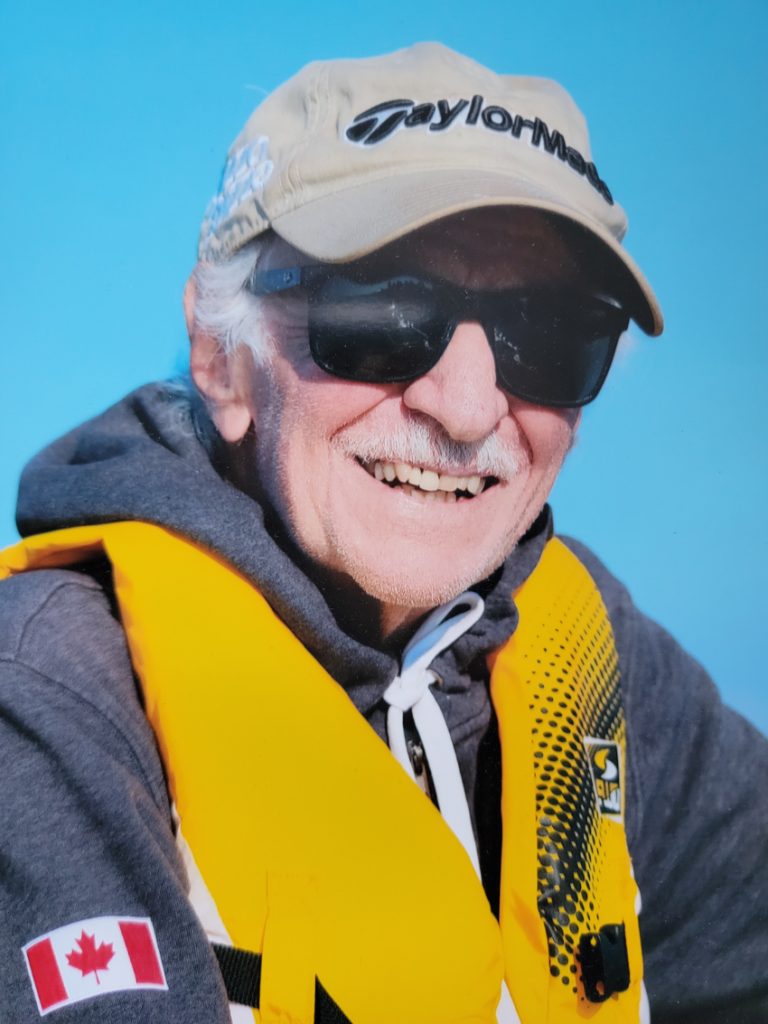 Charles Logue passed away peacefully on March 3, 2021, in his 91st year. We were fortunate enough to have a 90th Birthday celebration for him at his home in Toronto with family and a few close friends.
Over the last few years my dad fought extremely hard to stay around for his children and grandchildren. In the end the loss of my mom — the love of his life — a few years ago made it difficult to continue and the pull towards her became too strong.
My dad loved cottage life on Gibraltar Island and everything about the "Great "Outdoors" as he called it, but really loved the comfort and safety of being indoors! Unlike my mom, who was always outside doing things and no one really knew where she was half the time, my dad seemed to enjoy the spectacular views of Bayfield Inlet from inside the cottage.
He enjoyed just lying on the couch watching the Jays game, napping, drinking tea and making sure no mosquitoes got into the cottage. He loved almost all the cottage animals — chipmunks, loons, pileated woodpeckers, sandhill cranes, deer and bears — but not so much the rattlesnakes.
One of my dad's resting spots will be with my mom in her beautiful garden at the cottage. She will now comfort him and keep him safe forever in the "Great Outdoors."
He will be missed and remembered forever by his family — father of Susan, Judy (Greg), Jennifer and Scott, grandfather to Ryan, Callum and Hadley — plus relatives and close friends whom he loved dearly.
My dad's favourite quote — "Good, Better, Best. Never Let It Rest. 'Til Your Good Is Better and Your Better is Best." (St. Jerome)
Dad you always did your best and now you get to rest!
— by Jennifer Logue
---
Clyde Sanger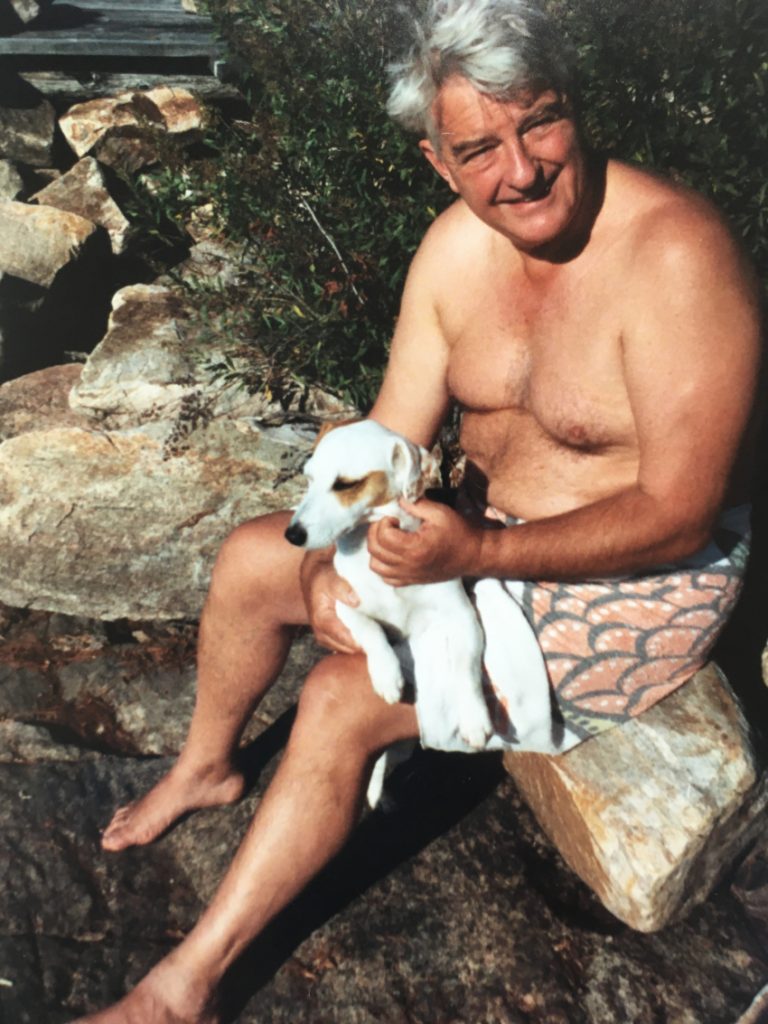 Raised in England, Clyde first expanded his horizons reporting on the early civil rights era in the southern United States and then, as a more seasoned journalist, chronicling and championing the nationalist movements that ended colonial rule in sub-Saharan Africa.
It was there that he met Penny Ketchum in the late 1950s. She married Clyde and introduced him to Nares Inlet and her sprawling family, and he generously shared his love for both until his death in January 2022.
As a naturalized Canadian, Clyde learned to paddle a canoe and chop wood as did Jack London, a childhood hero. He patched the old log cabin, dressed stylishly in a Kenyan kikoi. He canoed the Magnetawan and French rivers and introduced English and African visitors to Nares Inlet, with only minor mishaps.
While Penny was more adept in the practical arts of cabin life, Clyde shone as the family chronicler. His poems celebrated our annual rites: water taxi rides with Gary Scales in "Pretty Babe"; cabin building projects; departing with the birds in the fall. They also parodied his role as a "peripheral" to Ketchum blood-royalty, and as the "additional consenting spouse" in a land transfer agreement.
Clyde's greatest pleasure at Nares was swimming au naturel, preferably accompanied by Penny. A first plunge into spring-cold water after arriving from a hot road trip; lounging on the rocks after a mid-summer circuit of the island; a last lingering swim before leaving for the season. (See his two poems, below.)
Clyde continued to share these joys with his family and many friends long after he was able to visit Nares Inlet. He leaves us all enriched by them.
— by Matthew Sanger
The First Swim (excerpt)
The cleanest joy, to cast off clothes and cares,
Fling Rafi in before his second bark,
Then dive ourselves into the marl-green Nares
With spirits soaring like a meadow lark.
Laughing we slithered up an island's verge,
Lay while the sun kissed glistening drops away,
Gazed at how breasts and rocks in beauty merge:
"This is the best," was all we needed say.
— June 1992
The Last Swim (excerpt)
We are going. Count to ten
(Or thereabouts) and then dive in.
But why? Is it to prove to lesser men
We're a distinct society
Seeking hardship more than sin?
Or is it because we recognize
That heaven is here for seizing,
The silver sparkle on the waters
Is a galaxy come visiting,
And the stars are all about us
In this final swim?
— August 1998
---
Don Ord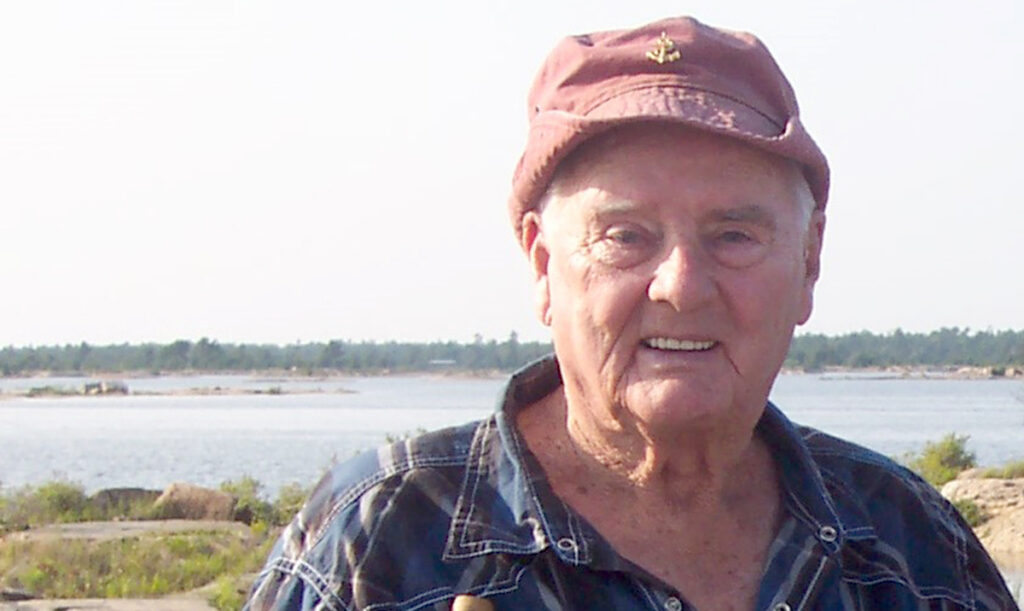 Don had Georgian Bay in his blood. His grandfather, Lewis Redman Ord, and his uncle, Arthur Ardaugh, were the original surveyors of the Georgian Bay islands prior to 1910 — thus the letters A and O that go with island numbers in our region.
They bought up islands for $1 an acre and shared them with family members. Don's father, Redman Ord, settled on island A857 in 1945.
Don spent his summers in Bayfield and at the hotel in Skerryvore — the historical mainland settlement on Shawanaga Bay near Pointe au Baril — where he was a dock boy.
While he was working there, he was asked by an American to drive him home to Houston, Texas one year. He accepted and was "adopted" by this gentleman and stayed there, going to college and working in a bank to help support his family back in Canada.
After a period of time, Don got a draft notice to the army but decided to join the American Air Force instead. He was stationed at Limestone Air Force Base in Maine as an aircraft instrument technician.
On one of his trips driving his friend back to Skerryvore, I was waitressing there, and a summer romance began, which turned into a lifelong love affair and a marriage of 64 years!
After his four years in the service, Don decided to move to Syracuse, NY. because it was close enough to drive to the cottage. He got a job with Liberty Mutual as a car insurance salesman.
We purchased an island of our own, island A859, known as Caterpillar or Blueberry island, with a very unique cottage built by Mr. Gustus. I stayed there with the children and Don commuted on weekends from Syracuse — an eight-hour trip at that time.
In 1968, Don decided he wanted me to see the Bay in the winter, so we made the trip to Hangdog in February. We were greeted by temperatures of -50ºF and had to take the door off the cabin and bring the snowmobile in by the oil furnace to get it started!
As we were leaving, Ray France said, "Don, I'm selling the place in the spring and you should buy it." The rest is history! For almost 20 years we ran Hangdog Camp and General Store (now Bayfield Boat Club), later renamed by Don as Bayfield Services. The variety of work, the challenges and the long hours were just one great adventure to Don.
In 1979, Don bought Minwaubin island A798 and built our home on it. This fulfilled Don's dream of living near the open Bay. He continued working from the island until 2017.
Don loved Georgian Bay, his family and people in general. He is remembered for his laughter, his kindness, his great storytelling, and his "song for the day." He left his mark in Bayfield, as was evident by the lowering of flags to half-mast in his honour when he died last summer. (Thanks for that wonderful tribute.)
Due to Covid-19, the celebration of Don's life is planned for Summer 2021 in Bayfield.
— Arlene Ord
---
Bill Cox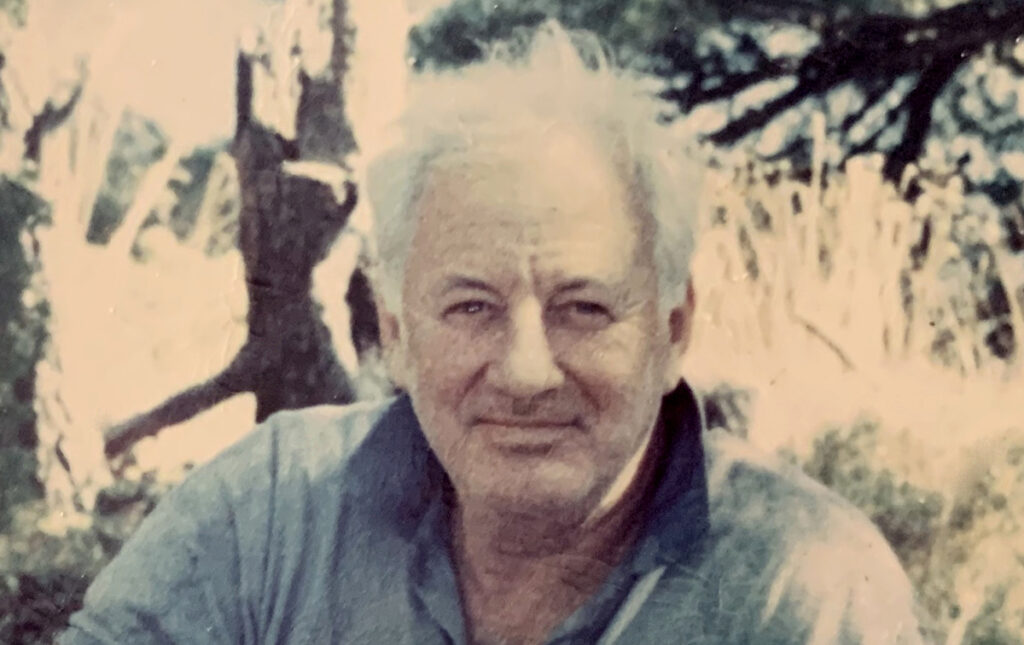 Our father/step-father, William "Bill" Milner Cox, was born on December 21, 1928, and died peacefully at home in Bermuda on July 30, 2020 after a short battle with cancer. He kept his sharp mind to the end and enjoyed smoking Cuban cigars even on his last day. He led a good life and he said that the best thing he ever did was to buy an island in Bayfield Inlet.
He went to the cabin every summer between the years 1968 to 2014, and he experienced some of his happiest and most difficult days there.
He bought island A969-1 in 1969 with our mother, Janine, and we all have incredible childhood memories there. Unfortunately, they divorced and as many of you will remember, his second wife, Vicki, died suddenly on the island on an awful day in August, 1991. It was a terrible time for us all.
In 1996, Bill married his third wife, Rosanna, in Georgian Bay, and they shared many summers up there together. A highlight of his life was in 2008, when we were all up there together with our families to celebrate his 80th birthday.
In 2012, he wrote a short book about his life and excerpts from this were used at his funeral. Here's a description of the path that led him to Georgian Bay, his most favourite place in the world. It started when he was sent to boarding school when he was 12 years old:
In the late 1960s, a Canadian School and College friend Tom Lawson, invited me to assist him in building a vacation cabin in Nares Inlet, Georgian Bay, Ontario. I noticed a 5-acre island with a rustic cabin in nearby Bayfield Inlet and I purchased it in 1969. This transpired to be one of the more sensible things I have done. Members of the family including children and more recently grandchildren have enjoyed it every year since and hopefully in the future will continue to do so."
We definitely will!
— Diana, David, Sarah, Amanda and Tara
---
Lorne Ursel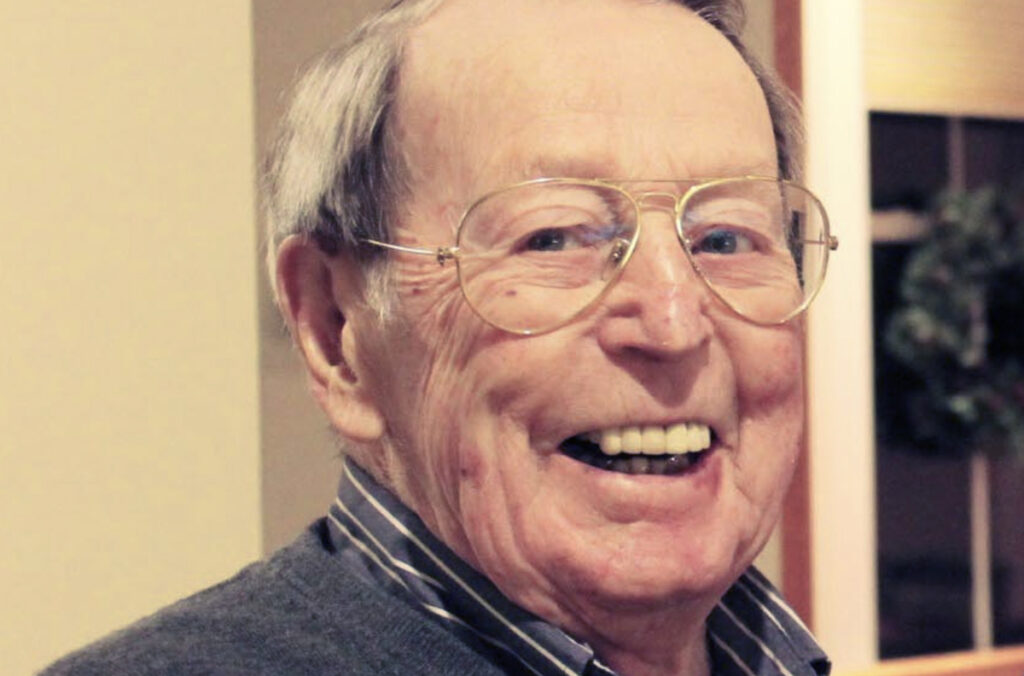 Lorne first started coming to Nares Inlet while courting Pinky Reiffenstein in 1956. As a fighter pilot, he impressed her with a low flight up Nares Inlet! After marrying Pinky, Lorne quickly fell in love with the Georgian Bay and its terrific winds! An accomplished sailor, he helped brother in law John with his many boats, eventually bringing up his own International 14.
Lorne also brought up the first Laser to Nares. Though quite a sailor, canoes were never his favourite, to Pinky's chagrin!
Lorne took special pride in updating the family cottage, A569-1, notably helping Dennis Scale design the current high beamed ceiling. He also enjoyed helping design the second family cottage at Keneu, A541-1.
Lorne was predeceased by Pinky in November 2011. He is survived by Lesley (Paul), Peter (Angela), and James (Elyn) and their families.
— Lesley Charron
---
Tanner Kolody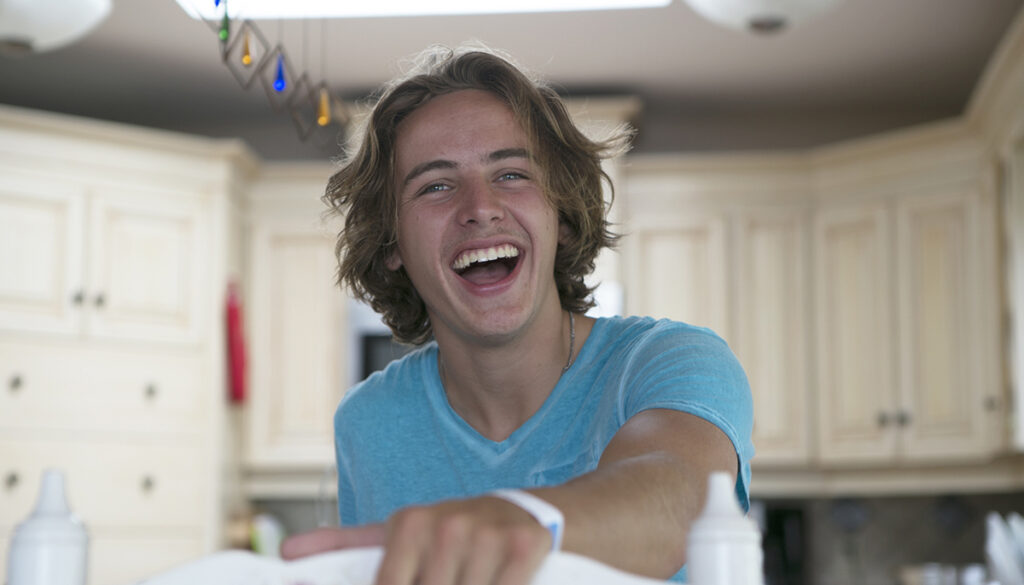 Our son and brother, Tanner passed away on May 23, 2020. He had a love for Georgian Bay and was particularly fond of Nares Inlet. Nares cottagers will remember meeting Tanner when he worked at Springhaven Lodge as a young teen. He was anxious to greet everyone as they approached the dock and wanted to help in any way that he could.
He would come back to our cottage after work and relay all kinds of stories of the people he had met that day.
Young or old, Tanner had a genuine interest in people, and while he enjoyed his experiences at the cottage, it was not enough unless it was a shared experience, so he spent a great deal of time connecting with his peers on the lake.
When we moved from Nares Inlet in 2018, it was important to stay in the area, so we purchased in Pointe au Baril. Still, Tanner ventured back to his roots in Nares regularly.
Tanner was in his third year of Automotive Engineering Technology at McMaster University, and had also begun studying online to acquire his real estate licence. Tanner dreamed big, and his hope was to someday sell real estate in the Parry Sound area so that he could remain part of the community he valued so greatly.
Tanner would be deeply touched to know that so many friends from Nares have reached out to share with us some of their memories. Thank you so much, as this is very special for us as well.
— Dennis, Alison, Tyler & Tianna Kolody
---
Anna Barron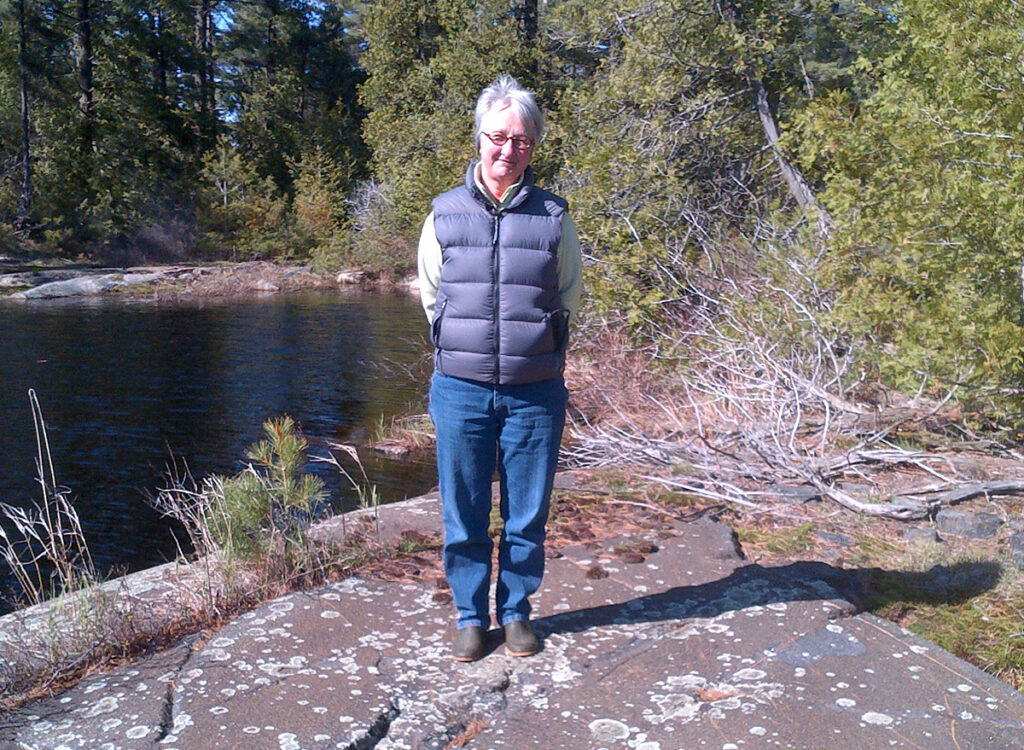 Anna died on September 1, 2020 in a drowning accident at our cottage A850-5 in Bayfield Inlet. If you didn't know Anna, the words of her many friends speak most directly to who she was and what she meant to us all:
"Full of humour and enthusiasm."
"An intent listener, no matter how important or banal the conversation."
"She delivered insights into human nature that often surprised, inspired and sometimes shocked me into seeing the world from a different perspective. I learned many things about becoming an adult from her."
"With Anna, time stood still and she would make you feel that you were the most important person in the world."
"Intrepid."
"Ready to celebrate the big and the small.
"A shoulder to lean on."
"A smart, sensitive and creative force, always with her adorable smile, infectious laugh."
Anna's family connections to Georgian Bay go back to 1912 when her great grandparents motored their boat, the Wrecca (Exile), from Windsor to McGregor Bay (near Killarney Provincial Park, off the North Channel), landing on an island they christened Nepenthe, which now hosts the fifth generation of the Sale family.
Anna and I spent our honeymoon there in 1978 during what had to be the wettest, coldest week in any September in memory. For many years thereafter, we spent time in the bay each summer in Pointe au Baril.
Anna and I have been part of the Bayfield Inlet community since 2009 when we finally got around to purchasing our own special place.
She is sorely missed by our children Clara, Simon and Liam, their partners, and our grandchildren Chloe, Soren, Oona and Desmond who are all just beginning to experience the pleasures of Georgian Bay.
Sadly, it will be without 'their dear 'Bidgee'.
— Brian Barron