President's Updates
On this page
---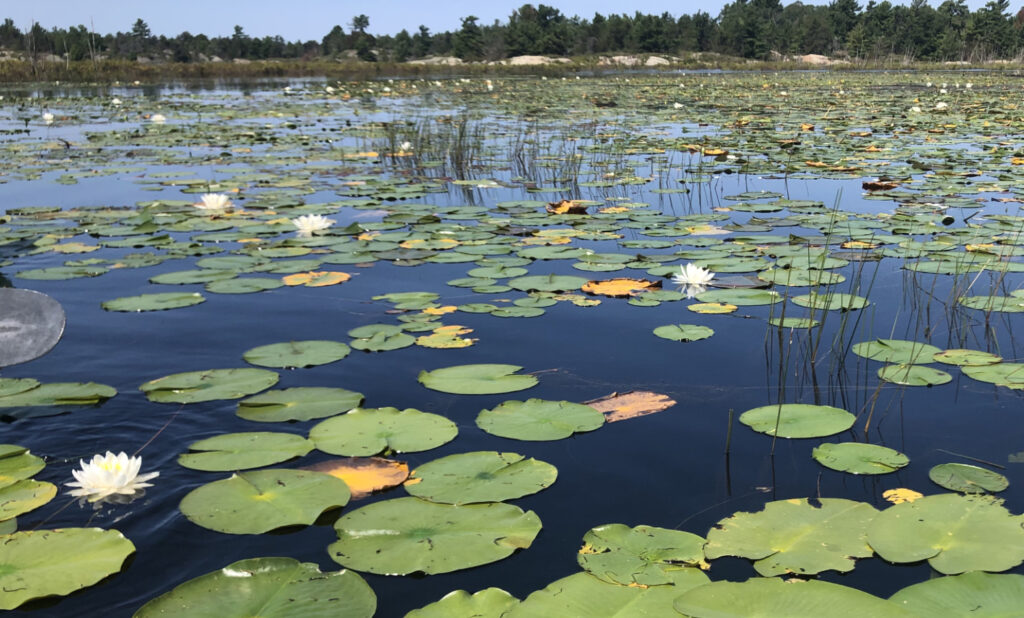 Winter 2023 Update
I'm asking for your immediate help on an important Bill that will affect all of us in Ontario and have long-lasting effects for cottagers: AMEND BILL 23
I'm talking about the currently proposed Bill 23, More Homes Built Faster Act 2022, which will overturn Ontario's land-use planning practices and override environmental protections as the government moves to promote building 1.5 million homes in the province over the next 10 years.
It doesn't have to be this way. I believe that changing land use to build new homes requires thoughtful and careful planning in order to preserve our natural heritage.
Instead, Bill 23 will amend the Planning Act, Development Charges Act, the Ontario Heritage Act, Ontario Land Tribunal Act, the Conservation Authorities Act, and others. In doing so, it will threaten greenbelts, conservation areas and have the potential to increase construction in cottage country!
Our Georgian Bay Association (GBA) provides a handy web tool (the button above) to email your MPP on this issue, with a pre-written letter you can send or modify very quickly
More info from the GBA about this issue is here
The consultation period for Bill 23 is still open — please act immediately!
BNIA Updates: welcome new members!
At our October board meeting we concluded that there are a lot of new members on the Bay, both new cottage purchasers and younger family members taking over existing properties. A big welcome to you all!
Almost all our boats are out of the water and I saw a few scoots being positioned near the shore, so the ice is imminent up here in Bayfield-Nares.
If anyone is a snowmobiler, please be aware that the new docks at Nares Landing have been left in the water so there are different obstructions and possible open water near those docks.
Behind the scenes, Frank Pointer has been digitalizing our collection of historical photos and articles and Lisa Pointner has been typing up a lot of the history so it can be better read! Big thanks to them. We'll keep you posted on how to access this history.
We're looking for ideas and leaders for next year's popular Outings and Events program. Would you love to share a cottage skill or hobby? Or could you host an educational or craft event? Then contact us please, here: outings@bnia.ca. We're especially looking for volunteers from Nares Inlet.
In a related vein, are you a weekend engineer-mechanic? Do you love mucking about in boats and setting up docks? We need help in setting up Family Regatta equipment before and after the August long weekend so BNIA families can have a great day on the water. Contact us here anytime: regatta@bnia.ca.
I don't know about others, but I loved the two lead articles in the recent GBA Update about unsafe boating (Unsafe Boating Incidents on the Rise by Andrew Hurlbut) and our dark sky (Lost in the Light: Taking Action to Address Light Pollution by Britt Oldenburg). You can read them online here).
Wishing you and your families health and peace in the coming season!
---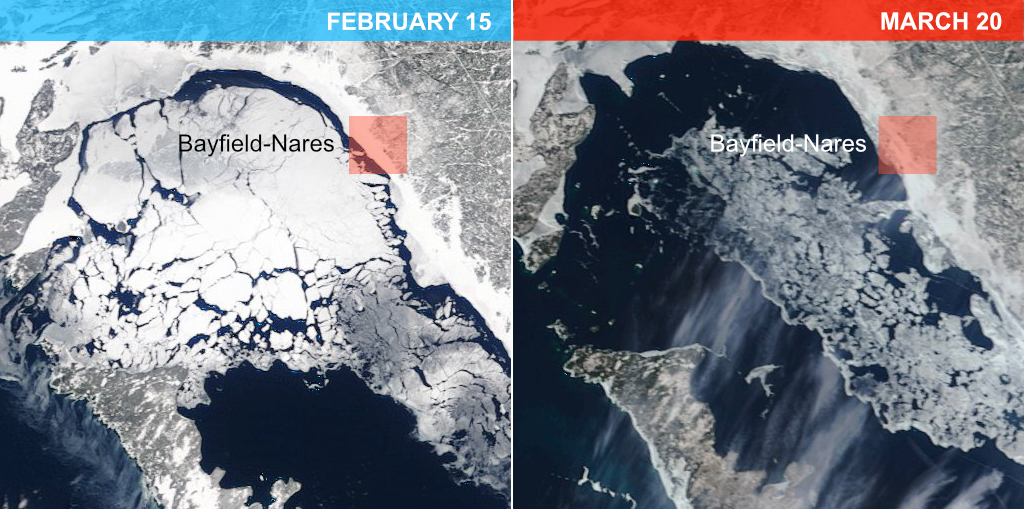 Spring 2022 Update
As spring approaches — and it seems to be approaching quickly some days — here are a few things I thought you might be interested in hearing about!
Water Levels
You may have a pleasant surprise when you first visit your cottage this spring. Our local contractors say that water levels fell throughout the fall and winter. And the Georgian Bay Association confirms this trend.
Their latest report (Mar. 20) says Lake Huron is down 17 inches from this time last year.
Water levels fluctuate seasonally. Spring is the low point of the year and levels will likely rise a few inches from April to August. But right now, the Lake Huron levels are tracking just slightly above the long-term average. Expect that when you go north again, your dock and shoreline will look … around normal! Not as swamped as we were 2–3 years ago, but not as low as we were 5–10 years ago.
You can always check water levels yourself at this GBA web page. Scroll to the bottom of the page for the current report.
BNIA Directory and Yearbook
DIRECTORY
Have you changed your address or phone numbers in the past year? Or was there a mistake in your Directory listing last year? You can update your info at our website so we have your correct info in this year's edition.
The deadline for member updates is April 1. You can make them yourself by logging onto our website to access your member profile. Here's a handy guide.
YEARBOOK
Work on the Yearbook is well underway as well. We have many diverse articles and writers contributing. Here's a sneak peek at some of the content:
How to share your cottage among multiple family members and even generations
CB radio memories — before cell phones, we used radios to communicate, on public frequencies!
Is it possible to catch salmon in Lake Huron?
Cold water, life jackets and shoals — a boatload of boating updates
Why is some lichen a bright orange in colour?
Fine artists at work — profiles of Bayfield-Nares artists
Many of you have been interviewed or forwarded information or photos for the Yearbook. Thanks! The deadline for Yearbook submissions has now passed. The Directory and Yearbook will be mailed to members in mid-May.
Summer 2022 BNIA plans
Summer 2022 planning has been our main recent focus. Thank you for your ideas for activities, events and initiatives. We have four Outings and Events planned for this year (we'll announce them in the Yearbook, and by email), and we can always use help in hosting events like the Regatta.
If you can assist, please let me know. Volunteer hours are available for young people. Also stay tuned for a boating-related event. Contact the boating committee with ideas or suggestions.
For the health of Georgian Bay
Several Georgian Bay associations have information to share, and we hope that you might complete the surveys discussed below.
WASHING MACHINE FILTERS
Georgian Bay Forever instigated a pilot program in Parry Sound a few years ago. The study showed that additional filters on washing machines kept microfibres out of our water. (The study was highlighted in your recent mailing from the GBA.)
Independent members Bill 279 will require that in future all washing machines will have filtration for micro fibres. It has had first reading. This Bill is being supported by the GBA and many other cottage associations and the BNIA has sent a letter of support (the letter has been posted on the BNIA website). Please support Bill 279 with this sample letter.
Note: In Bayfield-Nares most cottages don't have washing machines. But if you do have one, this filter will capture the microfibers and help prolong the life of your septic system! As well, most microfibers at home end up in municipal systems and then flow into our lakes, so please buy a filter for your home use.
GREENHOUSE GAS CALCULATOR
The Georgian Bay Biosphere has created a carbon calculator to estimate your greenhouse gas emissions, with support from our Township. This useful tool looks at your home and auto use, and your garbage habits, and takes about 15 minutes to complete. Access it here.
COTTAGER ECONOMIC IMPACT
The Georgian Bay Association is attempting to determine the economic input of cottagers. Demonstrating the economic impact of our collective membership will strengthen GBA's advocacy position with all levels of government. Please complete the survey to amplify our voice through the GBA.
Wishing you and your families health and peace,
Anne Stewart
---
Winter 2022 Update
Hi! I'm Anne Stewart.
I'd like to introduce myself as your new president, elected at the AGM last fall. My cottage heritage descends from the Cassels family (who built Nayasha in Nares, now owned by the Perdues). My father declined to own a Nares property but we rented every summer for two weeks.
In 1987, I was able to purchase a property and build a cottage in Nares (Island A583-1). And in 2013, to be closer to the place we love, Mike Weston and I purchased a mainland property at a campground on HIghway 529 that we now call Cranberry Camp.
The first few years we were part-time northerners, but we now live and work here year-round! As healthy building experts, we help people design and improve their spaces.
My reason for being here, and being involved with the BNIA, is my love of the Bay, the fresh air, the clean water, the wind, and the rocks. Living here full-time puts me closely in touch our community and township, which I hope can inform my leadership of the BNIA.
BNIA Member Survey
Thank you to the 101 members who completed the survey about the BNIA and what is important to members. We had an excellent response in a two-week period early last fall. Incidentally, we now have 266 members, probably the highest number ever! That is due to our great membership team.
Back to the survey, most of the respondents were 55 years of age or over. The key findings were:
The most important reason for belonging to the BNIA is the annual yearbook and directory.
Members want the BNIA to continue to keep them informed about issues that impact the community.
Members want more BNIA education (first aid, fire, boating, environment) and events.
The survey results will be used to focus the Board's preparations for 2022.
Planning for 2022 summer events
The last two summers were quiet for socializing and in-person gatherings, but we are planning for a much better 2022. Several committees have been very active. We welcome your ideas for activities, events and initiatives. In the summer, we can always use assistance in hosting events and at events (including the regattas). If you are able to assist please let us know. Volunteer hours are available for young people. Send any ideas to me and I'll forward them along to the right people.
BNIA First Responders were busy in 2021
This past summer was not quiet for our First Responders. They responded to a total of 21 calls from May to September. Then, in the fall, the First Responders attended a Virtual Cold Water Training program. And early this spring, all First Responders will be recertifying their First Aid, CPR/AED plus attending a three-day Wilderness First Aid course funded by the BNIA. I'm grateful for their services, and so is everyone I speak to.
Georgian Bay Association (GBA)
On behalf of cottager associations, the GBA has been:
communicating regarding the Wiiky land settlement
requesting and following up on FOI regarding the Henvey Inlet fire
making submissions to lessen the environmental impact of the TCEnergy Pump Storage Project on Lake Huron
commenting on the phase out of Hydro Seasonal Rates (there will be a 10-year phase in to year 'round billing to commence Jan 1, 2023 so some cottagers will see an increase)
giving input into Ontario Reg. 354/16 regarding best practices and enforcement for the boating initiative "Clean, Drain and Dry" to keep invasive species out
working with Transport Canada regarding changes to the Pleasure Craft Operating Licence program
participating in feasibility study regarding the William Grenville Davis Education Centre for the Great Lakes proposal
Boating safety is crucial
One of the things we heard from the member survey is that boating safety is important to you. The boating committee welcomes any ideas or suggestions (send to Rob Reed). Boating at night comes up often, in particular the lack of proper navigation lights on all watercraft including canoes and kayaks.
There is a great article about it in the boating news section of the BNIA website. Navigation lights are for other boaters to see you! Please check they are working properly and/or have them installed.
Useful resources
There is super information from the Georgian Bay Association, Georgian Bay Biosphere, Georgian Bay Forever, and the Georgian Bay Land Trust online, to name only a few. For example, if you missed the recent webinars on Extreme Water Levels the recordings can be found here.
I also highly recommend another organization that you might not be familiar with, The Land Between. They have some interesting material and initiatives. This link is about feeding wildlife. You can even become a Turtle Guardian (many of you know my passion for protecting turtles!).
Have a safe and happy winter. We will be enjoying the quiet blanket of snow and shoeshoeing in the woods.
Anne
---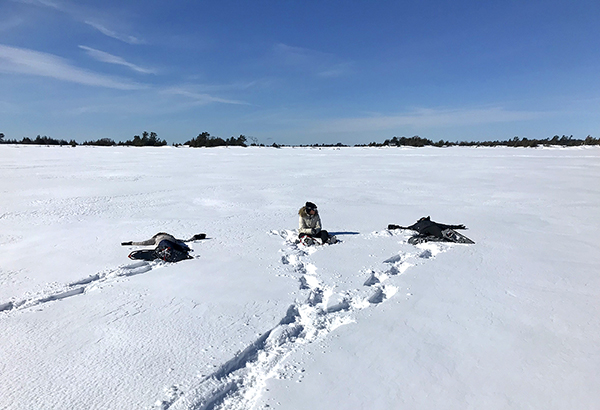 Spring 2021 Update
Dear BNIA Members:
The days are getting longer, winter is behind us (we hope), and there is summer to look forward to.

BNIA President John McMullen
Cross-border travel
We don't know and can't suggest what the summer will bring. Currently, US residents are not able to travel to Canada to visit their properties as that is considered an optional, non-essential purpose. The Georgian Bay Association continues to monitor the situation and will renew their advocacy when that is deemed appropriate. Here is a government of Canada link our American friends might wish to keep at hand: travel restrictions. Whatever transpires, we will keep you posted.
Hoping for outdoor activities this summer
At the time of writing, the summer AGM, Regatta and other events are in question. Our Spring Directors' meeting will be held in a couple of weeks and these and related matters will be a major topic of discussion. Generally speaking, we are thinking in terms of a number of outdoor activities that could take place this summer, activities that respect social distancing as well as other eventualities. Where feasible we will announce these in the Annual Directory & Yearbook, and failing that, we will communicate details later through further emails, the web site and Facebook. If you have ideas or wish to volunteer time, please get in touch with me.
Boating Committee is afloat again
In summer jargon, most of us grew up in and around the water. However, boating and boating safety are things we perhaps take for granted. A number of situations came to our attention over the past year that made us realize that it was time to re-energize the BNIA Boating Committee. We have done this under the leadership of Past-President Rob Reed. The goal is to help create an environment where boaters and non-boaters alike can share the water safely and responsibly. At the root of safe, responsible and respectful boating is education, with a focus on the younger generation. More on this subject in the 2021 Directory & Yearbook.
Four great savings for BNIA members
The GBA wanted to remind you of four great savings offers exclusively available to all BNIA members. These include:
15% savings on Cottage and Boat Insurance, which can also include Home and Car Insurance
30% savings on the FoodCycler on-site food waste recycler
25% savings on Automatic External Defibrillators (AEDs)
40% savings on Coleman and Stearns outdoor products and lifejackets (the password for the Coleman/Stearns discount offer is SAFEBOAT20)
For details, please see here.
Thank you for renewing your dues
Thank you to everyone who has already paid their 2021 membership, existing and new members alike. And to our new members, which includes new cottage owners, welcome! Kudos to Nichola Martin and the Membership Committee for a fabulous job on this year's membership drive.
---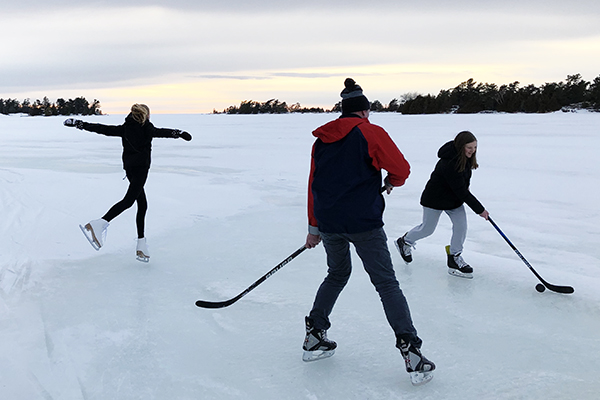 Winter 2021 Update
Dear BNIA Members:
While I would prefer not to dwell on Covid-19 and its impact on the past year, and probably next year, at times that seems unavoidable. That said, I chanced upon one of Charles Schultz's iconic Peanuts cartoons the other day in which Linus offered that, "Worrying won't stop the bad things from happening, it just stops you from feeling good."
Our many American relatives and friends are always on our minds. We're sorry that you couldn't escape to your cottage this past summer and dearly hope, circumstances permitting, that we will see you next summer and we'll be able to catch up then.
Rejuventated BNIA boating committee
Certain boating and safety-related matters surfaced this year. As a result, we rejuvenated the long-standing Boating Committee, thanks to the efforts of Past President Rob Reed along with Alice Lurie, Peter Frost and Tom Martin. There are several areas of concern that we believe need to be addressed; boat speed, wakes and damage caused, deployment and observance of signage, and quite simply, knowledge of and adherence to boating rules of the road. We all share our waterways, so courtesy and respect are essential.
Dealing with docks
You have no doubt heard of the stellar efforts of Ted Simmonds and his helpers locating and disposing of old derelict docks – and returning some perfectly good "strays" to their home base. The concern with these derelicts, aside from being eye sores, is the environmental damage caused by the ubiquitous blue foam as it breaks down. In 2020 the focus was on Bayfield Inlet. In 2021 we will turn our attention to Nares Inlet. Beth and I did a tour and very quickly built a lengthy hit list. Volunteers are needed so if you care to help next summer please contact either myself or Ted Simmonds: ted.simmonds@bell.net.
While talking of docks, please make sure all of your docks (not just the primary) are identified, with your name or preferably your island number. Recent severe storms have led to an increased number of errant docks, gang planks, etc. Identification would make it easier to return them to their rightful owner.
There will be more on the above and other topics of interest in the spring newsletter and of course the invaluable BNIA directory and yearbook, so stay tuned.
Membership renewal
Last but not least, if you haven't already done so, please renew your BNIA membership for 2021. You can still save $5 on your full member dues, if you renew before the end of the year! Your support is essential to the ongoing viability of our association and all it does. Renewal is now self-serve, on this website. Just go here.
On behalf of the BNIA Board of Directors, and notwithstanding these challenging times, our best wishes for a Merry Christmas, for happy holidays, and for the New Year.