President's Updates
On this page
---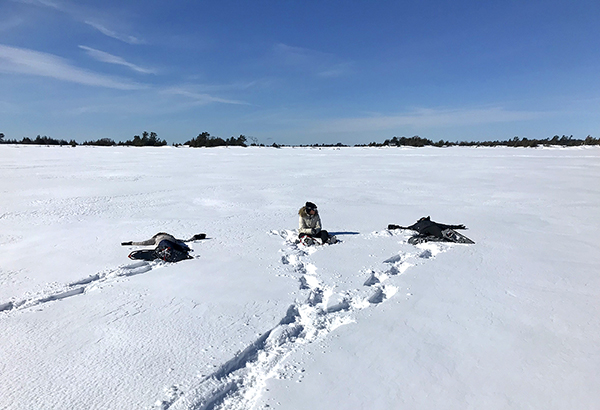 Spring 2021 Update
Dear BNIA Members:
The days are getting longer, winter is behind us (we hope), and there is summer to look forward to.

BNIA President John McMullen
Cross-border travel
We don't know and can't suggest what the summer will bring. Currently, US residents are not able to travel to Canada to visit their properties as that is considered an optional, non-essential purpose. The Georgian Bay Association continues to monitor the situation and will renew their advocacy when that is deemed appropriate. Here is a government of Canada link our American friends might wish to keep at hand: travel restrictions. Whatever transpires, we will keep you posted.
Hoping for outdoor activities this summer
At the time of writing, the summer AGM, Regatta and other events are in question. Our Spring Directors' meeting will be held in a couple of weeks and these and related matters will be a major topic of discussion. Generally speaking, we are thinking in terms of a number of outdoor activities that could take place this summer, activities that respect social distancing as well as other eventualities. Where feasible we will announce these in the Annual Directory & Yearbook, and failing that, we will communicate details later through further emails, the web site and Facebook. If you have ideas or wish to volunteer time, please get in touch with me.
Boating Committee is afloat again
In summer jargon, most of us grew up in and around the water. However, boating and boating safety are things we perhaps take for granted. A number of situations came to our attention over the past year that made us realize that it was time to re-energize the BNIA Boating Committee. We have done this under the leadership of Past-President Rob Reed. The goal is to help create an environment where boaters and non-boaters alike can share the water safely and responsibly. At the root of safe, responsible and respectful boating is education, with a focus on the younger generation. More on this subject in the 2021 Directory & Yearbook.
Four great savings for BNIA members
The GBA wanted to remind you of four great savings offers exclusively available to all BNIA members. These include:
15% savings on Cottage and Boat Insurance, which can also include Home and Car Insurance
30% savings on the FoodCycler on-site food waste recycler
25% savings on Automatic External Defibrillators (AEDs)
40% savings on Coleman and Stearns outdoor products and lifejackets (the password for the Coleman/Stearns discount offer is SAFEBOAT20)
For details, please see here.
Thank you for renewing your dues
Thank you to everyone who has already paid their 2021 membership, existing and new members alike. And to our new members, which includes new cottage owners, welcome! Kudos to Nichola Martin and the Membership Committee for a fabulous job on this year's membership drive.
---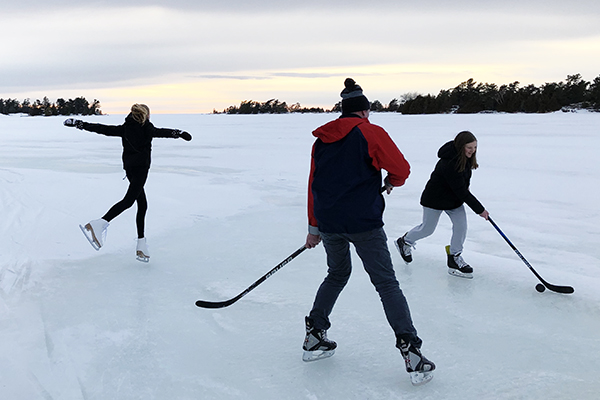 Winter 2021 Update
Dear BNIA Members:
While I would prefer not to dwell on Covid-19 and its impact on the past year, and probably next year, at times that seems unavoidable. That said, I chanced upon one of Charles Schultz's iconic Peanuts cartoons the other day in which Linus offered that, "Worrying won't stop the bad things from happening, it just stops you from feeling good."
Our many American relatives and friends are always on our minds. We're sorry that you couldn't escape to your cottage this past summer and dearly hope, circumstances permitting, that we will see you next summer and we'll be able to catch up then.
Rejuventated BNIA boating committee
Certain boating and safety-related matters surfaced this year. As a result, we rejuvenated the long-standing Boating Committee, thanks to the efforts of Past President Rob Reed along with Alice Lurie, Peter Frost and Tom Martin. There are several areas of concern that we believe need to be addressed; boat speed, wakes and damage caused, deployment and observance of signage, and quite simply, knowledge of and adherence to boating rules of the road. We all share our waterways, so courtesy and respect are essential.
Dealing with docks
You have no doubt heard of the stellar efforts of Ted Simmonds and his helpers locating and disposing of old derelict docks – and returning some perfectly good "strays" to their home base. The concern with these derelicts, aside from being eye sores, is the environmental damage caused by the ubiquitous blue foam as it breaks down. In 2020 the focus was on Bayfield Inlet. In 2021 we will turn our attention to Nares Inlet. Beth and I did a tour and very quickly built a lengthy hit list. Volunteers are needed so if you care to help next summer please contact either myself or Ted Simmonds: ted.simmonds@bell.net.
While talking of docks, please make sure all of your docks (not just the primary) are identified, with your name or preferably your island number. Recent severe storms have led to an increased number of errant docks, gang planks, etc. Identification would make it easier to return them to their rightful owner.
There will be more on the above and other topics of interest in the spring newsletter and of course the invaluable BNIA directory and yearbook, so stay tuned.
Membership renewal
Last but not least, if you haven't already done so, please renew your BNIA membership for 2021. You can still save $5 on your full member dues, if you renew before the end of the year! Your support is essential to the ongoing viability of our association and all it does. Renewal is now self-serve, on this website. Just go here.
On behalf of the BNIA Board of Directors, and notwithstanding these challenging times, our best wishes for a Merry Christmas, for happy holidays, and for the New Year.
---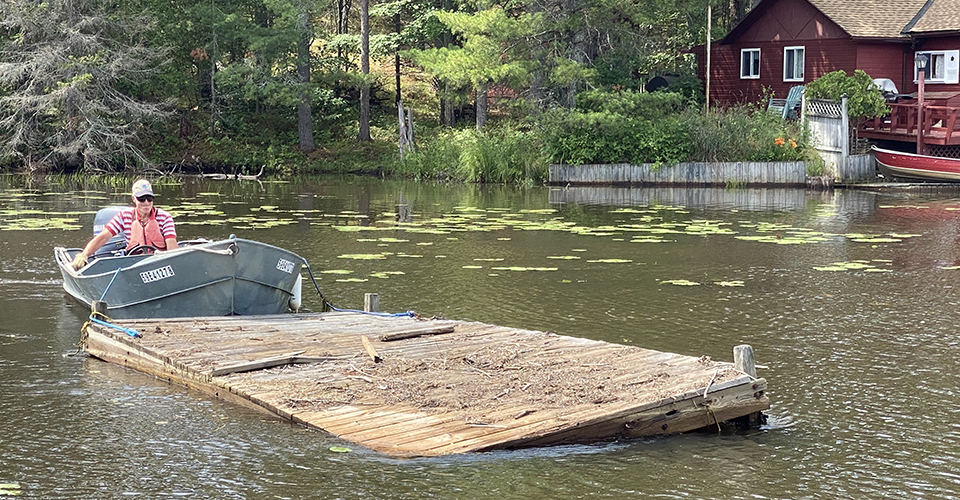 Summer 2020 Update
Ted Simmonds, Bayfield Inlet's dock buster
When we were planning for our Bay Day cleanup (story below), BNIA Board Member Ted Simmonds asked, "Why not flag derelict docks, push them to shore, dismember them, and take the pieces to Site 9?" (Sounds like the makings of a crime novel!)
Ted hasn't looked back since. This summer, he has removed 15 abandoned docks from within Bayfield Inlet, with five more still to come, plus any others that we learn about. (If you know of one hiding in a corner near your property, please contact Ted.)
That's an astounding amount of volunteer work, with great benefit to our local environment because of Styrofoam that is properly disposed of, instead of lingering menacingly in the back channels of our archipelago, slowly leaking micro particles into our waterways.
Ted has developed some ingenious methods for safely coaxing the old docks to shore without them breaking up in the process. For example, he has learned to use blocks of Styrofoam, pushing them under the docks to keep rotting timbers afloat so he can move them with his boat to shore. (The Styrofoam blocks then go to Pointe au Baril for use as bases for winter stored boats.)
Ted recently had help from volunteers Bill and Cheryl Dinnin and their grandchildren, Julia and Liam (above), who graciously took time from their swimming to help complete the removal of the dock pictured. Working with big tools was more interesting it appears.
Plans are afoot for a similar effort in Nares Inlet next summer. A large number of derelict docks have already been identified in the area. And when we say derelict docks, keep in mind that we are usually talking about the infamous (and bad-for-the-ecosystem) blue Styrofoam.
Bay Day continues through Labour Day
Starting July 11, but continuing for the remainder of the summer, we're celebrating "Bay Day." How? By getting the whole family involved in a shoreline cleanup of your island (and ideally nearby Crown land shores if you're energetic). How better to demonstrate your appreciation for the Bay than to help keep it in pristine condition. For details on how to participate and how to make it a fun activity see our website, below.
A virtual AGM, coming this fall
The BNIA's Annual Meeting will be held virtually on Sunday Oct 18, 2020, 10 am to noon. The agenda and details on how to register for the Zoom virtual AGM and how it will be conducted will follow well in advance of the meeting. But please mark the date and plan on joining us. You won't want to miss it!
Status of Thomson GBLT property
Concerned about this iconic Nares landmark, a number of people have asked about the status of the Thomson cottage and when is it to be torn down and returned to Natural State, which was the plan when it was donated to the Georgian Bay Land Trust. GBLT has been renting the cottage in past summers to raise funds for taxes and the cost of the demolition and will continue to do so for 2021 and 2022, after which the cottage and remaining outbuildings will be demolished. There will be an auction of the cottage contents prior to demolition. We'll provide the details when available.
Watch your wake — your neighbours will thank you
For the most part, gone are the days of a cedar strip Giesler and 10 hp outboard engine. Boats today are bigger and faster.
I am going to close this Update message with an appeal. Please be conscious of the size of wake you produce at different speeds and the impact yours can have. Please respect your neighbours' cottages, their docks and boats, and the shoreline. And most important, please keep in mind the safety of all those who use the local waters we enjoy so much. Dare I add, "Do unto to others as … "
---
Spring 2020 Update
Let's keep our fingers crossed!
This is not the Spring Newsletter I would have imagined a couple of months ago. As I write, Ontario's Emergency Order remains in place until May 12. Non-essential travel is strongly discouraged. Marinas are closed except for those individuals requiring water access to their primary residence. The size of gatherings is restricted. And the Canada-US border is also closed to non-essential travel.
Ontario Premier Ford has tabled a 3-part reopening plan which describes in broad terms what will take place. However, we don't know the when. This is not a criticism of the authorities. We are indeed living in unprecedented times and the COVID-19 pandemic must be approached with caution as it plays out.
I recognize that there is a degree of frustration, the more so as the weather improves. Under these challenging circumstances, one size unfortunately does not fit all. However, I ask that you please recognize the rationale behind and respect the guidelines and regulations in force.
At this stage, it is to be assumed that COVID-19 may well impact summer activities such as outings, the AGM, regatta and more, although we won't hazard to say exactly how. Let's keep our fingers crossed. Whatever the Board decides will be guided by the health authorities and our judgement as to what is in the best interests of Bayfield and Nares cottagers, families, guests and others.
Please be assured that we will keep you informed of developments as they affect the BNIA and our cottage community, by eblasts, postings on our web site and Facebook.
New Web Site
Over the winter we have been working on the transition to a new and exciting BNIA web site. We believe it will be of significant benefit to BNIA, its members and other visitors to the site. I won't say more at this time. A separate announcement will follow in a few days.
Donations & Sponsors
Every year a number of generous members include an additional donation with their annual dues payment. Donations, big and small, are gratefully received. They help support the activities and expenses of this small volunteer-driven organization. To all donors, thank you!
This year we have embarked on a new initiative. You can now sponsor a specific outing or event; for example, part of our annual Regatta, the canoe race, the post-sailing race party. If you are interested or have another idea, let us know!
Membership
On a final note, if you have not yet paid your 2020 BNIA membership, please take a moment to consider what the BNIA – and by extension the GBA – does for us and for our cherished bit of Georgian Bay, all of which is described in the soon-to-be released 2020 Directory & Yearbook. Payment is easy. Just go to www.bnia.ca
At some point we will be sitting on our favourite rock or on the deck, relishing a sunrise or sunset as the case may be. Give a moment's thought to all of the essential service providers and frontline workers who are striving to make sure this happens. Until then, please stay safe, be patient, and remember that we are all in the same boat.
P.S. As of yesterday, Friday, it was announced that Marinas may begin preparations for the recreational boating season by servicing boats and other watercraft and placing boats in the water, but not open to the public. Boats and watercraft must be secured to a dock in the Marina until public access is allowed.
---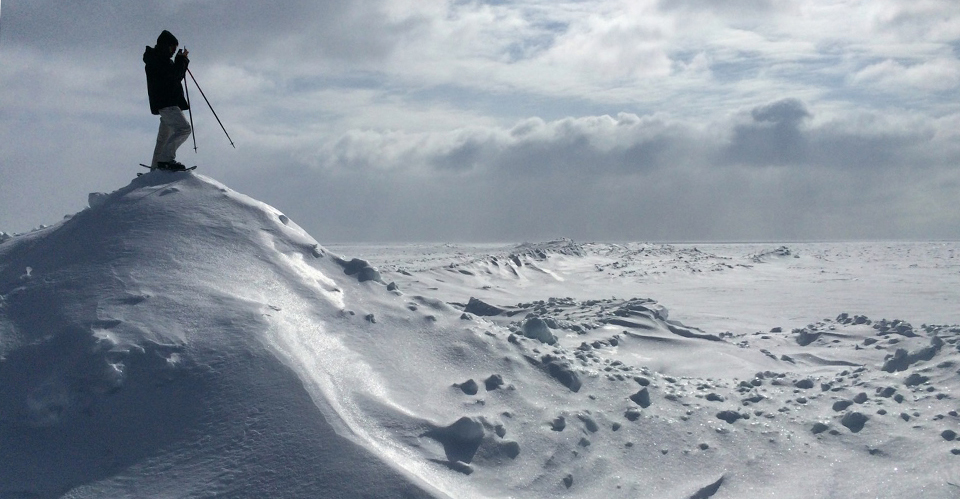 Winter 2020 Update
There is a lot happening within the BNIA, and thankfully we have an excellent Board and energetic committees to tackle what needs to be done. I wanted to bring you up to date on a number of items.

— John McMullen, President
Membership & Communications
This committee, chaired by Sara Carter, has several projects in the works to improve communications and to keep you in the loop on what's happening. Alice Lurie and Art Kilgour are overseeing the transition to a new web site, to be unveiled in the Spring. We will be making increased use of social media vehicles, to keep you abreast of events and to help us reach out to the younger generation. And the Directory and Yearbook, co-edited by Sara and Nichola Martin will as always be jam packed with useful information and entertaining articles.
Water Levels
It only seems like yesterday that the common cry was "stop the drop". Now it should more appropriately be "stop the rise". The new reality is that water levels this year will be as high, perhaps even higher than 2019. There is little if anything that can be done within the Middle Great Lakes about levels per se; "adaptation" becomes the operative word. Increased water levels affect navigation, marinas, docks and more. Speaking of docks, specifically old docks with foam flotation, see Georgian Bay Forever's Fall newsletter at https://georgianbayforever.org/newsletters/ for an interesting but worrisome article on the adverse effects of foam when, as is inevitable, it breaks down.
Fire
A new Fire Prevention & Education Committee was struck last year, chaired by Leeanne Smart. It's acknowledged that hot dry conditions will become increasingly prevalent, so a priority will be to increase education and awareness on how to prevent fires and how better to respond in case of an incident. Fire ratings will be provided to members on a weekly basis via eblasts during the summer. More information and tips will be provided in the 2020 Directory and Yearbook. Incidentally, there were a few violations in 2019. In one of those, the owner and renter at the time were visited by the by-law officer and were fined.
Regatta
Last year's regatta was a huge success, thanks in large part to Susan Day, who kindly made her lovely island available for the occasion. The regatta will again be in the capable hands of Mike Major, with assistance as always from Ted Simmonds. Enjoyed by many, the Regatta is a large undertaking; volunteers are needed, so if you are interested in pitching in, please contact Mike at mmajor@toronto.ca
Photo contest
I am not going to tell you who the winners are – you'll have to wait until you receive the 2020 Directory. I will tell you that there were over 40 submissions. Art Kilgour whittled these down to a dozen or so, and then the judging committee (Sara Carter, John Lavis, and Art) chose a winner and runner-up. Thanks also to Art for the winter shots that accompany this newsletter.
Annual dues
A membership renewal notice will be coming out shortly. Most of you are paying by PayPal. If you do not use PayPal, please give it consideration; it's easy, saves you and the association money, and helps us efficiently keep track of the membership. Peter Perdue, BNIA Treasurer, will appreciate it.
The strength of an association such as ours is founded in its members – their number and engagement. Please encourage your family members to join, either as full or associate members, and also encourage neighbours who you suspect are not members, and are not aware of the BNIA and what it does – for them.
Guardians of The Bay
The "Guardians of the Bay" (GOTB) is a GBA initiative designed to instill a mindset of protection and preservation of the Bay amongst all who enjoy this jewel. What does being a Guardian of the Bay mean?
you have a deep appreciation and respect for Georgian Bay and recognize that it is a special and fragile place
you understand human actions, attitudes and decisions have a significant effect on the state of the Georgian Bay ecosystem (water, wildlife, land, nature, air) in the future
you care enough about Georgian Bay to judge and base your actions, decisions and behaviors, in favour of long-term health and sustainability of the Georgian Bay ecosystem
Who can be a Guardian of the Bay? Anyone! It doesn't matter how old you are, why Georgian Bay is important to you, or how big or small your story is – GBA wants to hear from you!
To learn more, go to here.
Also on the Georgian Bay Association front
As BNIA members, you all receive a copy of GBA's UPDATE which keeps us current on the many activities undertaken by our parent organization. So for now I just wanted to mention that Anne Stewart stepped down last year as one of the two BNIA representatives on the GBA Board. We thank Anne for her many years of service in this capacity. Replacing her is John Lavis. For my part, I finish my term as GBA Past President this coming April, with my replacement as BNIA rep on the GBA board to be announced later.
Outings and Workshops
Every summer, Molly Mulloy arranges excellent outings and workshops, enjoyed by young and old alike. If you have any ideas or suggestions, or if you'd like to volunteer to help, please get in touch with Molly at molly.mulloy7@gmail.com Stay tuned for further information in the spring newsletter and check the web site (www.bnia.ca) as summer approaches.
Recycling Pays
One of BNIA's unsung heroes is Ted Simmonds. On his own clock, Ted collects alcohol beverage containers and pop tabs which generated just over $4,300 in 2019. Annually, these monies are distributed among a number of local initiatives and beneficiaries. He also took more than 750 pounds of pop cans to his local metal recycling company at the end of the summer, for proceeds of over $110.00, which were donated to a children's charity. In Ted's own words, "We eliminate a large quantity of what could become waste materials, saving the environment, and we raise funds for worthy causes."
Update on Steve Fletcher
A sizable portion of the $4,300 mentioned above went to assist Steve Fletcher in his ongoing battle with kidney failure. As most of you know, Steve is one of the mechanics at Thompson Marina. Ted Simmonds helped set up a "Steve Fund" to defray the considerable expenses that Steve continues to incur as he awaits a transplant. Many association members have generously made personal donations. However, there is a need to replenish the "Steve Fund" in order to help cover new expenses. The BNIA is not, and cannot be, an agency to manage charitable donations such as this, so the effort is managed by and funds solicited through Ted. If you are interested in helping, please contact Ted at ted.simmonds@bell.net or by mail at 1043 The Grange Side Rd, Caledon, ON L7C 0E5.
Cottage Book
The BNIA cottage book has been a #1 local best seller. We are offering the opportunity to purchase the cottage book still at the discounted price of roughly $20 (whatever the actual printing and shipping costs work out to per book). The deadline for ordering will be the same as the deadline for membership renewals (to be advised shortly) so that John Lavis knows who are active members and hence eligible for the discounted price. Books will be ready for pick-up once the marinas open at the beginning of May or at the July BNIA AGM. For further information, see http://bnia.ca/?page_id=422