Métis Fisherman Bernie LePage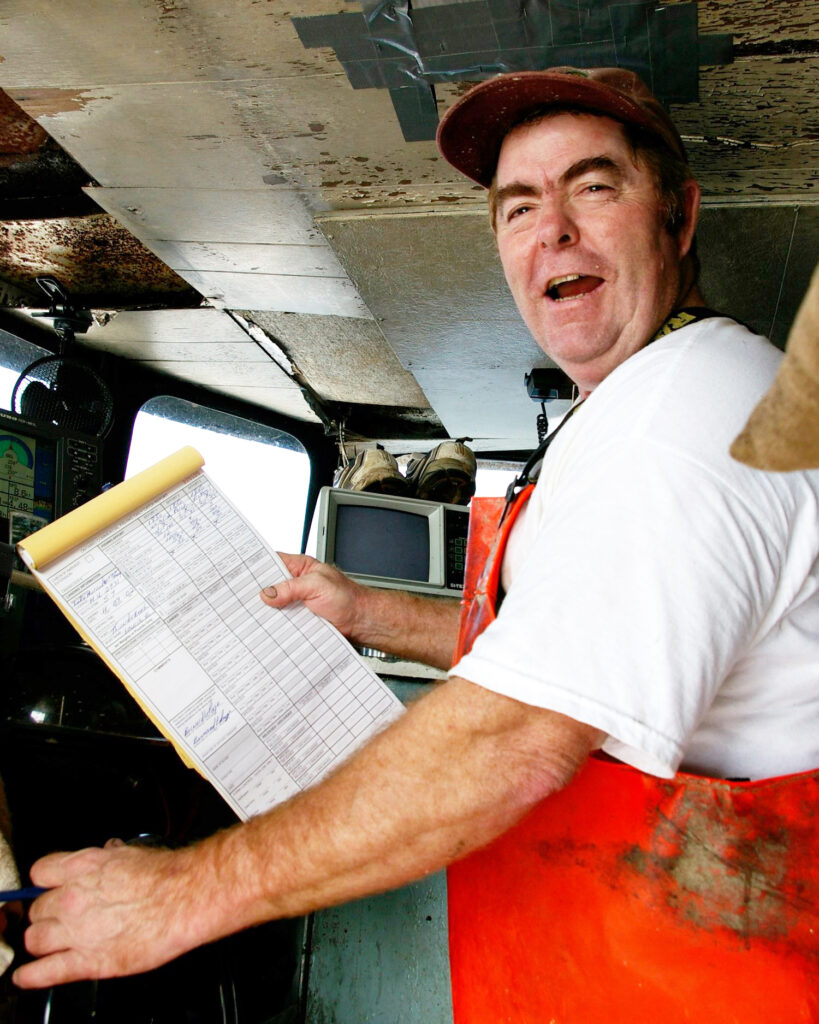 LePage is one of a handful of commercial fishermen in Georgian Bay, selling his catch from his home in Nobel
by Art Kilgour
The day starts early for Bernie LePage, from late April to early December. He leaves his home in Nobel, Ontario at 3:45 am, then drives 90 minutes south to Thunder Beach, on the Penetanguishene peninsula. By 5:30 he's on board his commercial fishing tug, the Laurie E, along with 2–3 deckhands, to spend the day setting gill nets in southern Georgian Bay for whitefish, lake trout and pickerel.
Bernie has been doing this since he was a small boy in Lafontaine, fishing with his dad Henry LePage, the same as four generations of LePages before them, going back to 1861 in Penetang. His heritage is Métis, with Aboriginal ancestry on his father's side. He spoke English at home (his mother's language), but he was schooled in French, his father's language, in the small village of Lafontaine, near where he now keeps his boat.
He loves his job
"It's in my blood," says Bernie. "I love doing what I do, being on the water, navigating, figuring out where the fish are, then fileting and packing them to take home or deliver to my sister and nephew's stores in Lafontaine and Midland."
We've been stopping at Bernie and his wife Sandy's home-based store in Nobel for over 15 years, nearly every time we visit our Bayfield Inlet cottage. It used to be right on Highway 69. Now it's bypassed by the 400, but is still accessible via two highway exits, at either end of Nobel (Parry Sound Drive at the south end and Avro Arrow Road at the north end). Bernie is only around Nobel on stormy days. Sandy mostly runs the store, and also does marketing on Facebook and the Parry Sound radio station.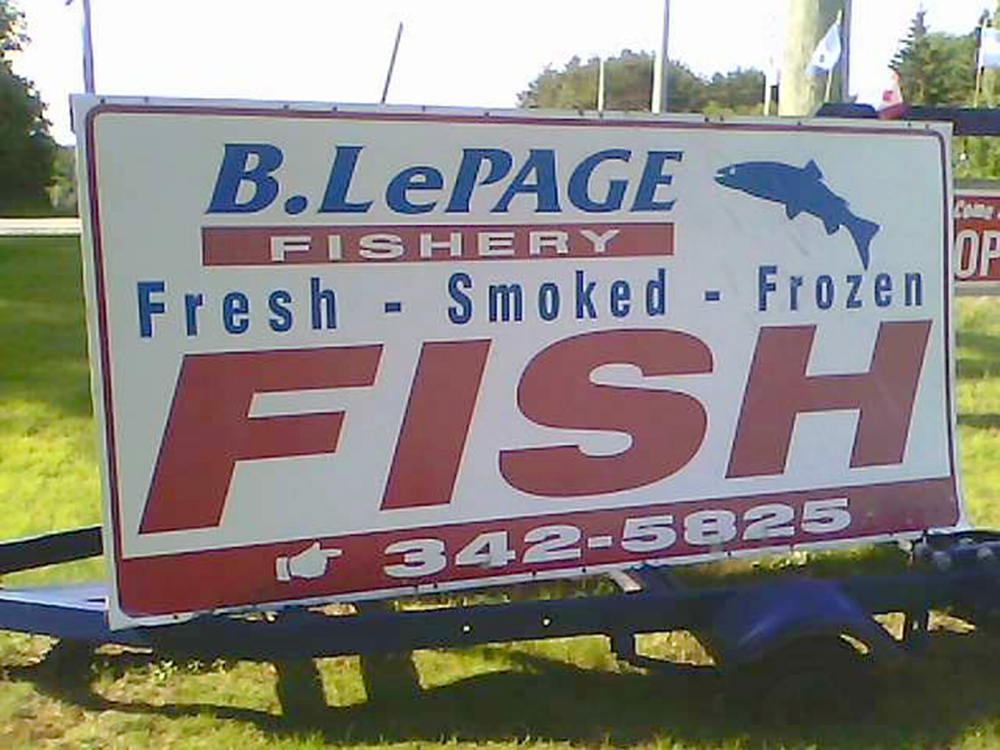 Their weathered "B. LePage Fishery" sign on Highway 69 in Nobel only hints at the excellence of the product they sell in a super-immaculate basement shop with a large display cooler and two freezers. The whitefish that we barbecue on a Friday night was swimming 100 feet deep in the lake just 24 hours earlier, perhaps 70 kilometres to the south, off Giant's Tomb Island.
We've only gradually become aware of the larger LePage story, which touches many parts of Georgian Bay and stretches way back in time. I've talked to him casually over the years in Nobel, but really enjoyed interviewing him over the phone in early 2021. Every time I asked him a question, a dozen rich and interesting answers poured out.
Henry's Fish Restaurant near Sans Souci
Bernie's dad Henry was a fisherman and a welder, but he was also an entrepreneur. He started Henry's Fish Restaurant on Frying Pan Island near Sans Souci, selling fish and chips to boaters from the 1970s to the 2000s. The marine restaurant attracted hundreds of customers a day, mostly cottagers, but also wealthy fly-in diners from Parry Sound and elsewhere in float planes. (Henry's still exists, under new management, but they kept the name, it was that famous.)
Bernie is now one of five commercial fishermen in eastern Georgian Bay, with a licence to fish from Midland Bay up to Twelve Mile Bay, and from the shore out to the Western Islands, a small cluster of granite rocks about 25 kilometres offshore. It's an enormous area, but one that Bernie knows intimately. Most of his catch, however, comes from the waters just north of the Penetang peninsula — "the fishing is so good that we don't usually have to travel far from there."
He fishes in deep water, beyond where recreational fisherman usually venture, and catches fish that they don't see much, like lake trout and whitefish, both native to Georgian Bay. His boat is a classic Great Lakes "tug", as Bernie calls it, a squat, displacement hull vessel, built to haul tons of fish and gear and to handle any sort of weather or waves.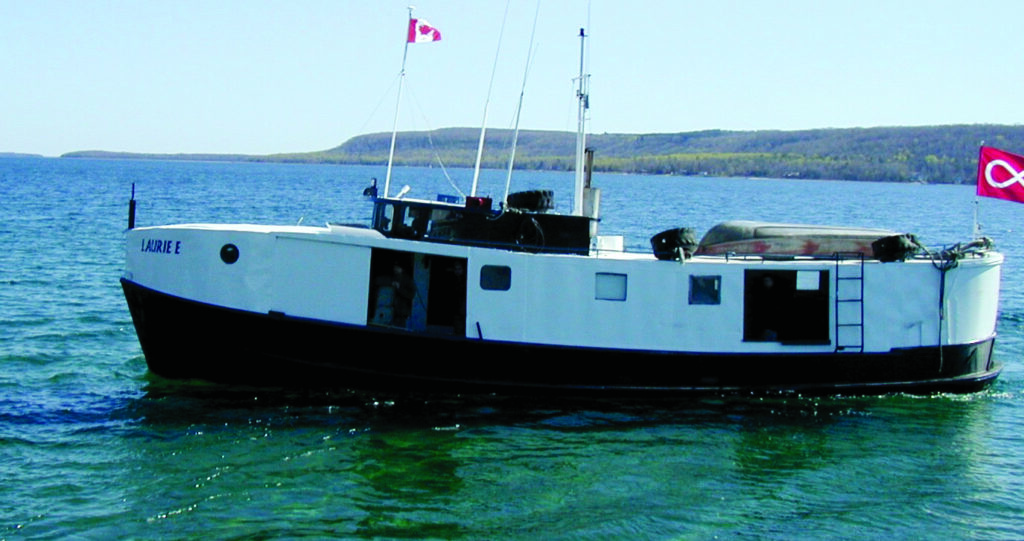 The Laurie E (he doesn't know why it's called that — the name came with the boat!) would be fine In high winds, but he doesn't fish in bad weather for risk of losing his nets. He sets them with anchors and floats, then returns to collect them some time later, winching them back into his boat and picking out the fish by hand.
As the commercial fishery was threatened by the invasive and parasitic Lamprey Eel in the 1970s, Bernie and his dad searched for a way to add value to their catch, beyond Henry's. That's when he started filleting the fish right on his boat, as he motored back to port each afternoon. The resulting product was more marketable than whole fish, and could be easily frozen, or smoked, both of which increased their storage.
The Métis Fish Market
Bernie's sister Irene Ferguson and nephew Shawn Goulding now smoke the lake trout and whitefish, creating a delicious vacuum-packed appetizer that lasts in the fridge for up to three months. Shawn's "Métis Fish Market" is a popular Midland store, and he also sells online at metisfishmarket.com. All their fish comes from Bernie's nets.
The best fishing seasons for Bernie are spring and fall, when the water is cold. He still catches in the summer, and sells in his family's stores, but he relishes the shoulder seasons, when the catch goes up, and there's less traffic on the water in his area. Since he can't sell as much locally at that time of year, he sends it to Toronto and other markets, via distributors.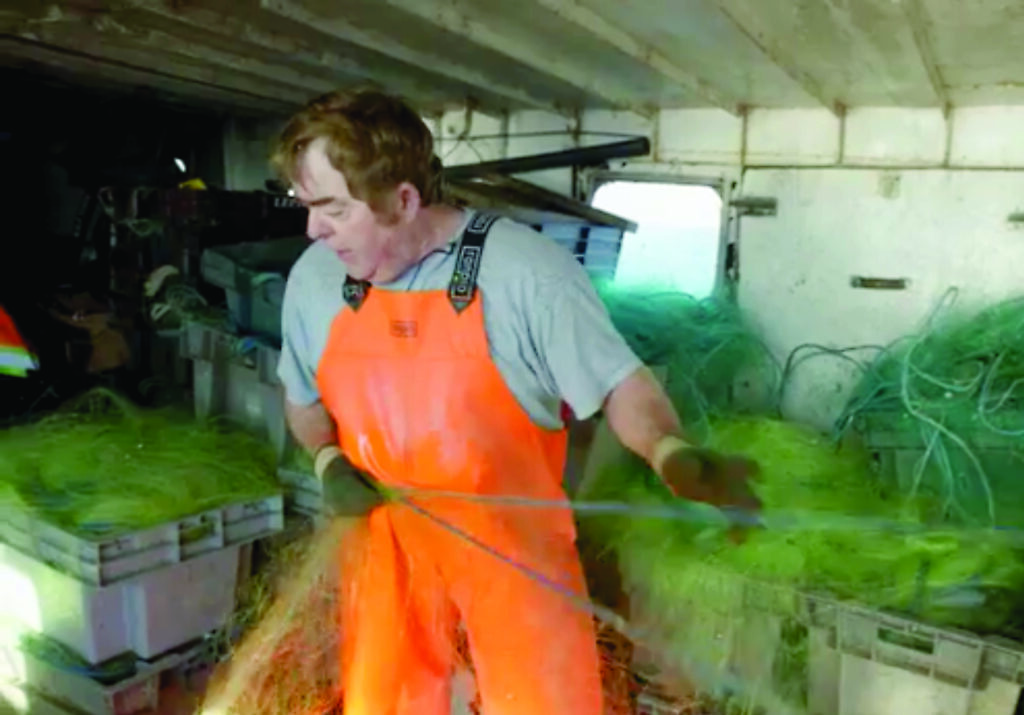 The volume of his catch varies from year to year, and he's limited by quotas set by the Ontario government. Last year, he caught 38,000 pounds of whitefish alone. He's allowed to catch more when the fish are plentiful and he's limited when the stocks are lower, all regulated.
Fisherman and biologist
Beside having an excellent knowledge of the weather and underwater geography, LePage is also an expert biologist, by necessity. He observes that the latest invasive species to impact the fishery — the tiny round goby, a bottom dwelling fish that's only a finger-length long — is a curse and a blessing. It is out-competing native small fish and eating their eggs (bad), but it also eats an earlier invasive threat, the zebra mussel (good), and whitefish like to eat the gobies.
"I open up a whitefish, and it will have 100 gobies in its stomach," says Bernie. "It's all about the food chain," he comments, "and there are balances — it's not a simple picture!"
How long can Bernie LePage keep up the pace? He works over 12 hours a day, 7 days a week (minus bad weather days), for almost 9 months of the year. He's 66 now, the same age as his boat. "I'm hoping to do it until I'm 75," he answers. "It's everything I know, after doing it for a lifetime."
I hope he does, so that we can continue our cottage Fish Friday tradition for many years to come.