Dock Buster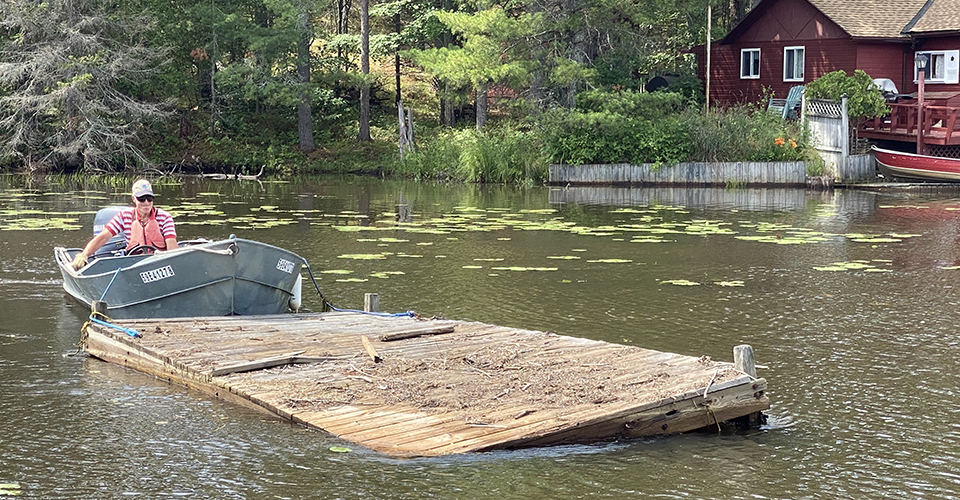 Ted Simmonds — Bayfield Inlet's ghostbuster of abandoned docks
When we were planning for our 2020 Bay Day cleanup, BNIA Board Member Ted Simmonds asked, "Why not flag derelict docks, push them to shore, dismember them, and take the pieces to Site 9?" (Sounds like the makings of a detective novel!)
Ted hasn't looked back since then. This past summer, he has removed 15 abandoned docks in Bayfield Inlet, with five more still to come, plus any others that we learn about. (If you know of one hiding in a corner near your property, please contact Ted.)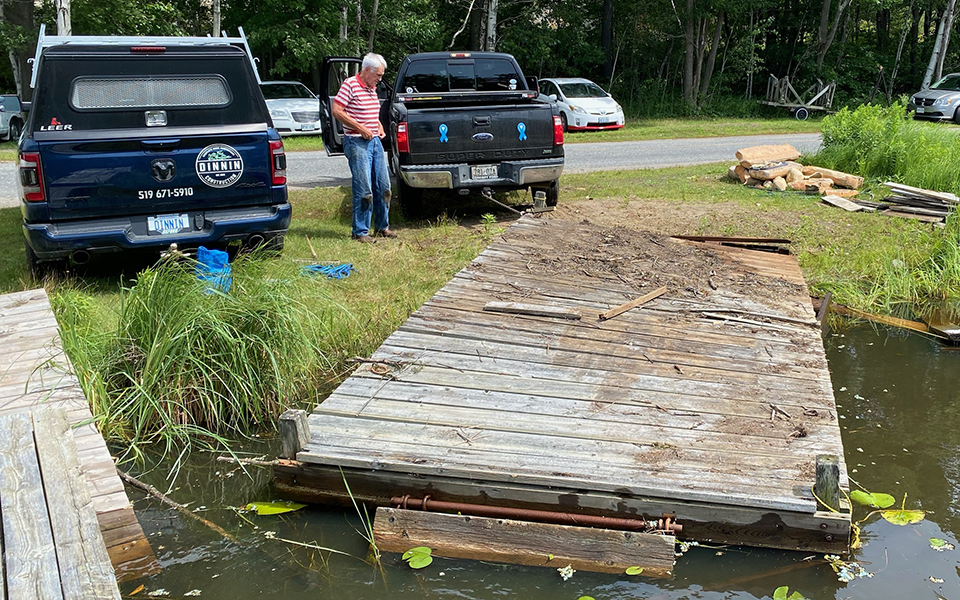 That's an astounding amount of volunteer work, with great benefit to our local environment because of Styrofoam that is properly disposed of, instead of lingering like ghosts in the back channels of our archipelago, slowly leaking micro particles into our waterways.
Ted has developed some ingenious methods for safely coaxing the old docks to shore without breaking them up in the process. For example, he has learned to use blocks of new Styrofoam, pushing them under the docks to keep them afloat so he can push them with his boat to shore. (The Styrofoam blocks then go to Pointe au Baril for use as bases for winter stored boats.)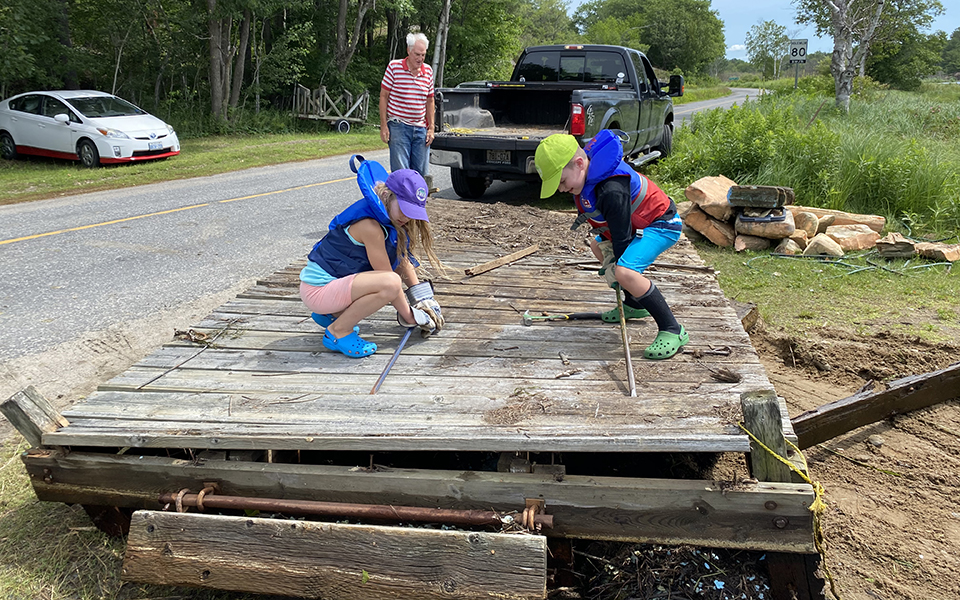 Ted recently had help from volunteers Bill and Cheryl Dinnin and their grandchildren, Julia and Liam (above), who graciously took time from their swimming to help complete the removal of the dock pictured. Working with big tools was more interesting for a day!
Plans are afoot for a similar effort in Nares Inlet next summer. A large number of derelict docks have already been identified in the area. And when we say derelict docks, keep in mind that we are usually talking about the infamous (and bad-for-the-ecosystem) blue Styrofoam, because of the way it breaks down into smaller pieces over time, without biodegrading.
Pictured below: Ted has separated the lumber from the Styrofoam flotation (right side of photo) after pushing the docks to Bayfield Inlet, and has loaded it into his truck for hauling to the Site 9 Landfill south of Pointe au Baril. Each dock removal represents an astounding amount of labour from the indefatigable Ted Simmonds. Think about it: find dock, float dock, push it to the marina, pull it out of the water, take it apart board by board, load truck, drive truck to Site 9. Repeat, about 20 times. Thanks Ted!